GOP Rep.: 'Not A Single Democrat' Went To Libya, State Department To Investigate Benghazi Attack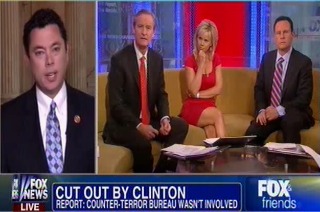 With whistleblowers coming forward and charging that members of President Barack Obama's administration actively hindered the investigation into the events leading up to and following the deadly 2012 attack on an American consulate in Benghazi, the political blame game is also taking shape. On Monday, Rep. Jason Chaffetz (R-UT) appeared on Fox & Friends where he alleged that his Democratic colleagues in the Congress were not interested in the investigation into Benghazi until recently.

When asked by the Fox News Channel hosts why some members of the administration appear to have engaged in a cover-up, Chaffetz said that he thought the White House's motivation for looking into the Benghazi attack was "political rather than security."
"What boggles my mind is that, four and a half months after the attack, Sec. [Hillary] Clinton still had the gall to come here and perpetuate things that we know as common knowledge are simply not true," Chaffetz added.
RELATED: 'Disgraceful': Reps. Chaffetz, Lynch Clash Over Intimidation Of Benghazi Witnesses On Fox News Sunday
The conversation turned to the heated debate that Chaffetz had with Rep. Stephen Lynch (D-MA) on Fox News Sunday who charged that the House Republicans had blocked House Democrats from participating in the investigation. "Why did you?" asked Brian Kilmeade.
"We totally did," Chaffetz shot back. "We're in the same boat."
"First of all, I went over to Libya. No Democrat decided or elected to go with me," he continued. "State Department sent a minder to go with me. We have been asking for documents from the State Department. We have been given eight tranches that we can only review in camera – that is, we have to go into a room where the State Department can watch and take notes on what I can look like – look at."
"Even non-classified documents – that is so wrong," Chaffetz added. "I can tell you, in those months, not a single Democrat has ever come down to join us. Some of their staff did, but not a single member did."
"That could change though, now," Gretchen Carlson opined.
Watch the clip below via Fox News Channel:
> >Follow Noah Rothman (@NoahCRothman) on Twitter
Have a tip we should know? tips@mediaite.com