Gretchen Carlson Moved To Tears As Huckabee Urges America: 'Quit Being Ashamed That We Believe In God'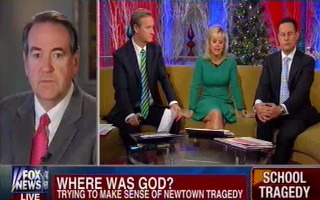 Fox News Host Mike Huckabee moved Fox & Friends host Gretchen Carlson to tears on Monday in a discussion about God and religion in the wake of the mass murder in Connecticut on Friday. After saying that no one "should be surprised" by the attack because schools have become a place free of religion, Huckabee softened his tone. He said that Americans should no longer be ashamed of their belief in a higher power and turn to morality before the tragedy rather than after.

RELATED: Huckabee To Fox: 'Should We Be Surprised' About School Carnage When We've 'Removed God From Schools'?
"I'm not suggesting by any stretch that if we had prayer in schools regularly as we once did that this wouldn't have happened," said Huckabee. But, we've created an atmosphere in this country where they only time you want to invoke God's name is after the tragedy."
Huckabee praised President Barack Obama freely quoting scripture in the wake of the shooting deaths of 26 people, including 20 children. However, he said that it was still important to "create an atmosphere in this country where morality is not something we discuss only when we have no other place to run."
Carlson was moved to tears. "Yesterday at our church, Governor, it was so moving," she said. "It was so wonderful to know that if you are a person of faith, you have a lot of questions why, but you have something to hold onto."
"I think It's important that we quit apologizing for having a spiritual conversation," Huckabee continued. "Quit being ashamed that we believe in God."
Watch the video below via Fox News Channel:
> >Follow Noah Rothman (@Noah_C_Rothman) on Twitter
Have a tip we should know? [email protected]