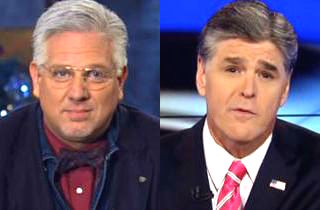 Last week, as Mediaite readers may recall, Glenn Beck called out Sean Hannity, Ann Coulter, and other conservative commentators for supporting "unprincipled" and "unlikeable" Republican presidential candidate Donald Trump.
The outspoken conservative proprietor of TheBlaze TV, radio, and digital platforms lambasted Trump as a "progressive Republican," and listed off severals ways in which his stated beliefs, policy suggestions, and demeanor make it truly baffling that "smart conservatives" would applaud him.
On Sunday evening, Hannity responded with a lengthy blog post, addressing Beck's concerns one by one.
Regarding the suggestion that he devotes too much airtime to the firebrand candidate (who made an infamously vulgar remark about Fox colleague Megyn Kelly), Hannity responded that "I feel I can best serve both my television and radio audiences by giving them as much access as possible to all of the candidates so they can make an informed decision in the primary."
In addition to building an audience and lining the pockets of Fox News, Hannity confessed that his biggest motivation is to address his concerns "about the direction of the country and the world in general." As such, he is open to hearing from all 17 candidates because each one would offer a "far more inspiring vision for our country than either Hillary Clinton or Bernie Sanders."
While responding to the charges that Trump is "pro-abortion," pro-gun control, and pro-single-payer health care, Hannity invoked Beck's own evolution over time from an drug-addled radio DJ to devoutly religious conservative superstar. "I like the changes you have made and your willingness to share those things with your audience," the Fox host wrote. "Are you a better person as a result of these changes? My guess is you are."
And on Beck's claim that Trump is not a likeable person, Hannity responded: "I have known him for years and have found him to be extremely likable and engaging."
"I am personally undecided at this point," Hannity concluded. "But I am glad Donald Trump is in this race. I like his straightforward outsider's view of politics. His personality and background are impressive and refreshing. I like anybody who is not politically correct."
Beck will appear on Hannity this evening (10 p.m. ET) for a full interview, in which the pair will likely call each other true "patriots" and hug it out. Be sure to check Mediaite tonight for coverage.
— —
>> Follow Andrew Kirell (@AndrewKirell) on Twitter
Have a tip we should know? tips@mediaite.com