Hardball Panel Erupts over GOP 'Birtherism,' Culminates in Invocation of 'Satan'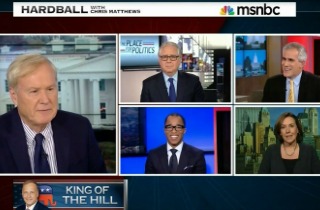 During an year-end special on Tuesday featuring a series of the best clips of the year of Republicans making inflammatory or nonsensical statements, the host and guests on MSNBC's Hardball erupted with excitement as each submitted theories explaining the roots of "birtherism" among conservatives.
Host Chris Matthews began by playing a clip of Rep. Steve King (R-IA) discounting many "birther" theories, though not entirely ruling out that a grand conspiracy may have been committed to create the impression that President Barack Obama is a legitimate president.
RELATED: Chris Matthews Hilariously Takes Issue with Someone Else Using Hyperbolic Rhetoric
Matthews turned to his panel for explanations about what could possible motivate this line of thought. "It's completely insane," Washington Post columnist Jonathan Capehart submitted.
"The common thread is faith, not logic," Huffington Post Editorial Director Howard Fineman added. "It's family, not science. It's market, not government."
"But why would that be a matter of faith that he wasn't born here?" Matthews asked.
Fineman insisted that the president always struck many on the right as someone with "foreign" sensibilities.
At this stage, the panel exploded with their own theories about what motivates "paranoid" sentiments among conservatives. Mother Jones reporter David Corn added that Obama's association with Saul Alinsky justifies the impression among conservatives that a secret "plan" to corrupt the country is afoot.
"You know who has the ultimate secret plan?" Howard Fineman asked. "Satan. That's what this is about."
Watch the clip below via MSNBC:
[Photo via screen grab ]
— —
> >Follow Noah Rothman (@NoahCRothman) on Twitter
Have a tip we should know? tips@mediaite.com