'It Was an Embarrassment': Former Defense Secretary Condemns Trump For Skipping Veterans' Cemetery Visit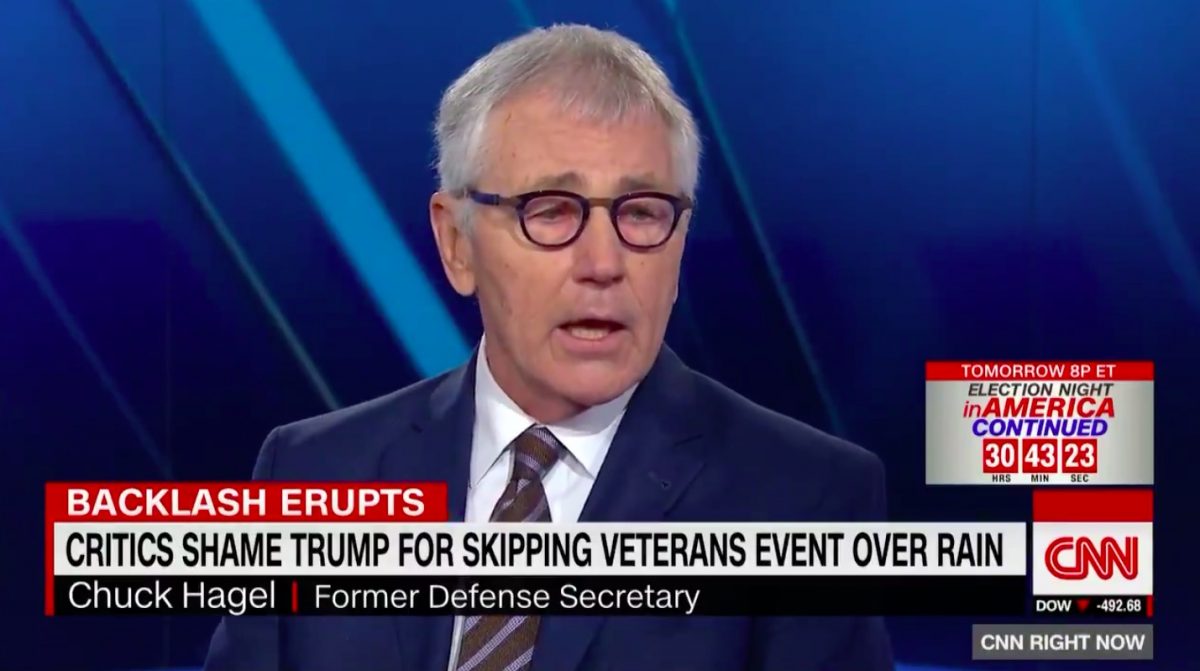 Former Defense Secretary Chuck Hagel condemned President Donald Trump for skipping out on a visit to a French cemetery for Americans killed in World War I because of rain.
"He should've gone through it to go," Hagel told CNN's Brianna Keilar, in the debut of her new 1 pm program CNN Right Now. "It was not that big a challenge or problem. It was an embarrassment. And he let down, I think, our veterans, he let down our country."
"And I think he sent a very wrong message to the world," Hagel, who served as defense secretary under President Barack Obama, said. "Not to make a little bit of an effort to get to a very important ceremony was wrong. And I'm disappointed and I'm sorry he didn't do it."
Watch here, via CNN:
"It was an embarrassment," says former Defense secretary Chuck Hagel about Trump skipping the veterans event: "He let down our veterans, he let down our country." https://t.co/xz7o6nEKTx pic.twitter.com/Y7ZdcbmKNO

— CNN Newsroom (@CNNnewsroom) November 12, 2018
Trump was in France to partake in ceremonies commemorating the 100 year anniversary of the end of World War I. His planned trip to the Aisne-Marne American Cemetery and Memorial outside of Paris, where he was due to lay a wreath and hold a moment of silence, was cancelled after his helicopter was grounded.
Critics hit the president for bailing on the event, arguing he should have found another way to travel to the cemetery instead of staying at the U.S. ambassador's residence in Paris while other world leaders participated in the ceremony.
Have a tip we should know? tips@mediaite.com
Aidan McLaughlin - Editor in Chief