Jay Carney Responds To Fox's Ed Henry On Marco Rubio Remarks: 'This Is Not The Day For Politics'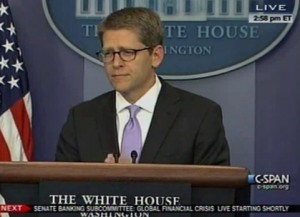 Soon after news surfaced of ousted Libyan dictator Muammar Gaddafi's capture and killing, freshman Senator Marco Rubio (R-Fl) took to Fox News to pointedly congratulate British and French forces, and to criticize President Obama for "leading from behind."
At Thursday's White House briefing, Fox News Senior White House Correspondent Ed Henry asked Press Secretary Jay Carney about Rubio's remarks, and Carney responded, "I think this is not the day for politics."

Henry began, "Marco Rubio said that you have to give credit where credit is due… that the British and the French led the way. When you hear that kind of suggestion, that the President did not lead the way, you say?"
"I think this is not the day for politics, Carney told Henry, noting that Rubio later issued a statement that did commend the " American and NATO forces that courageously assisted on this endeavor."
Henry followed up with more of Rubio's remarks from this morning's Fox News broadcast. "He says that he thinks the President's policy, in the end, was right, but that it took him too long to get there," Henry said.
Carney insisted that history would be the judge, but that "it is important to ask, whether it is one senator or another who is observing this, what action are they suggesting? Were they suggesting US troops on the ground? Were they suggesting using force?"
"Obviously, those are options that were assessed here at the White House," Carney continued. "The President chose a different path, working with our allies, taking a lead initially that, as he said today, put Americans in harm's way. There is no question."
Carney explained that the approach the President chose "gave the Libyan people the best chance for success,", and concluded by saying, correctly, that "today is the day when we can celebrate the demise of a tyrant, and the potential for a brighter future in Libya."
Elsewhere in the briefing, liberal radio host Bill Press tried to get Carney to place the Libyan operation in context with the Iraq War, but Carney again demurred.
Here's the clip of Carney's exchange with Ed Henry, from C-Span:
Have a tip we should know? tips@mediaite.com