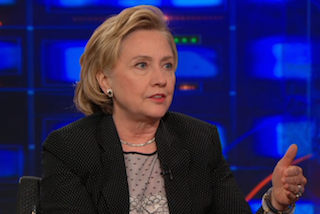 During his two-part interview with Hillary Clinton that aired during last night's Daily Show, Jon Stewart mostly grilled the former secretary of state on whether her Hard Choices
book tour was really the start of a campaign for president. It wasn't until the web-only "exclusive" part of their discussion that they delved into one of the most crucial foreign policy issues any president would need to face.
"Can we at least agree the humanitarian crisis in Gaza is overwhelming and that the world must do more for that people who are trapped by this conflict?" Stewart asked.
While Clinton agreed that the crisis exists, she said the people of Gaza are "trapped by their leadership" in addition to being pinned in by Israel. "They have leadership that is committed to resistance and violence" that is more interested in advancing rocket technology than actually making people's lives better, she told Stewart.
RELATED: Mark Levin Goes on Rant Against 'Knee-Jerk Idiot' Jon Stewart over Israel
"The Israelis are absolutely right in saying they can't just sit there and let rockets fall rain down," Clinton said, giving that side more credit than Hamas in the peace effort. "They are trapped," she said of Gaza, "and they're trapped, I would argue, first and foremost by a leadership that does not want to make things much better, because that gives them a lot of leverage over the poor people in Gaza."
Stewart pushed back, asking, "But don't you think they would look at that though as, they've given a lot of different things a chance and these are the only guys to them that are giving any resistance to what their condition is?" For Gazans living in that situation, he said Hamas could be viewed as "freedom fighters."
Clinton disagreed with that characterization, citing the Hamas "mentality" as antithetical to resolution. While the Palestinian Authority may want to end the violence and recognizes Israel's right to exist, she said Hamas "has not and says it will not do that."
Watch video below, in two parts, via Comedy Central:
[Photo via screengrab]
— —
>> Follow Matt Wilstein (@TheMattWilstein) on Twitter
Have a tip we should know? tips@mediaite.com