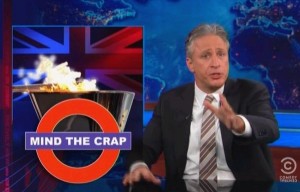 On The Daily Show tonight, Jon Stewart previewed the upcoming London Olympics and how England is preparing for the games. He ended up bewildered at how many problems the nation is facing leading up to the Olympics, from a security guard with some fun ideas about stabbings to an opening ceremony that seems less-than-inspiring.


RELATED: British Ministry Of Defense May Use Missiles For Olympics Security
After briefly addressing news that The Daily Show is returning to British television, Stewart looked at the recent scandals England has had to deal with, especially Russell Brand. But on Friday, it will all be forgotten when the 2012 Olympic Games kick off in London. Stewart called this a chance for Britain to "reign supreme once more."
Of course, that was immediately followed by a clip montage of all the problems leading up to the Olympics, mostly related to security, transportation, and "London Bridge… falling down." As it turns out, the hotel where the athletes were staying at was supposed to be guarded by 80 security guards. Only two showed up, and one of them was arrested for marijuana possession. Stewart then ran video of an Olympics security trainer who seemed to downplay the danger of someone bringing a knife into the games. He said, "Maybe you can stab one or two or three people."
But then Stewart brought out British correspondent John Oliver to celebrate the country's fantastic transportation, giving effusive praise to the East Midland Train line. Naturally, the train drivers are going on a three-day strike during the Olympics.
Stewart hoped that England might be able to redeem itself with a spectacular opening ceremony, but was bewildered to find it's just going to be a rather large piece of greenery with "real animals" and "a real cricket game." Stewart quipped, "Your answer to the precision spectacle of China's 2008 games is to let a few dozen sheep loose on the Teletubbies set?"
Watch the video below, courtesy of Comedy Central:

—–
Follow Josh Feldman on Twitter: @feldmaniac
Have a tip we should know? tips@mediaite.com
Josh Feldman - Senior Editor