Jon Stewart Mocks The War On Christmas™ With Hilarious Re-Imagining Of A Christmas Carol
Stewart Mocks War On Christmas™ By Re-Imagining
A Christmas Carol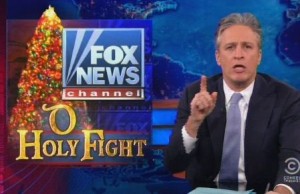 Jon Stewart offered a mock apology tonight for being one of the biggest fighters in the War on Christmas (at least, according to Fox News). But while the sketch began as a straightforward bit mocking Fox News for ginning up the annual wartime holiday, it quickly turned into a full-blown Christmas Carol homage, with Stewart learning some valuable lessons from the ghost of Christmas past, the ghost of "alternate Christmas past," and the ghost of alternate Christmas future.
RELATED: Jon Stewart Tears Into Fox News And Bill O'Reilly For Outrage Over The War On Christmas™
Stewart sarcastically regretted calling Fox News and its kin fighting against the War on Christmas "fucking crazy," before running clip after clip of Fox News pundits criticizing and deriding atheists as a bunch of bullies. Stewart said all the anger from Fox is perfectly reasonable for Christians, because what else could they do, turn the other cheek?
Stewart pointed out that most non-Christians really don't care that much about Christmas being a huge deal every December, and determined the only thing atheists really want is fairness and equality. But that's where the segment took a weird turn, as Stewart fell into a deep sleep only to wake up to three ghosts trying to teach him about the impact of Christmas on his life.
Jason Jones showed Stewart a past where he was ostracized for celebrating Hanukkah while everyone was out celebrating Christmas. Samantha Bee revealed a past in which everyone thinks Hanukkah is cool. And Jessica Williams showed Stewart a future in which not only is he the third Jewish president, he is responsible for single-handedly ending poverty. He also plays pro football.
When Stewart woke up, he revealed the true meaning of the holiday season: "All of us can find something in it to be angry about. Stewart concluded the segment by giving a Tiny Tim-esque John Oliver money to help celebrate a traditional Jewish Christmas: Chinese food and a movie.
Watch the video below, courtesy of Comedy Central:
Part 1:
Part 2:
—–
Follow Josh Feldman on Twitter: @feldmaniac
Have a tip we should know? tips@mediaite.com
Josh Feldman - Senior Editor