Jon Stewart Slams 'Drudge-Con 1'-Sized Fox News Reaction To 2007 Obama Video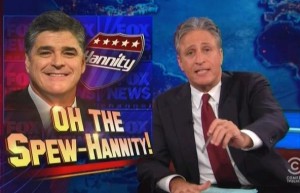 On The Daily Show tonight, Jon Stewart took on the overwhelming conservative reaction to a 2007 video of President Obama talking to a black audience. In particular, Stewart called out Sean Hannity and Tucker Carlson for hyping the "bullshit video" as much as they could yesterday, asking if this was really the best they could do to take Obama down a peg leading up to tonight's debate.
RELATED: The Obama Tape Dud: Republicans Relitigate 2008 While Democrats And Voters Focus On 2012
Stewart first mockingly mixed up the Obama video with a bit about race from Chris Rock's standup. Of course, Stewart then moved on to the real video, in which then-Senator Obama talked about a "racial component" to the Hurricane Katrina response, and Stewart couldn't help but notice that Obama's remarks sounded quite a lot like George W. Bush's following the hurricane.
Of course, as Stewart pointed out, Obama's real crime was not "the content of his message," but really just how he said it. He played clips of Hannity and Carlson slamming Obama for using different gestures and cadences in his speech to the African-American crowd, which Stewart summed up with the fake album title "Now That's What I Call Race-Baiting."
Stewart also slammed Hannity and Carlson for the inherent hypocrisy in their argument, pointing to Mitt Romney's infamous "Who let the dogs out?" comment in front of a black crowd. But Stewart squarely focused on how Hannity was playing up the video, and found it striking that the biggest thing Hannity could throw at the man he believes to be the worst president ever is a "bullshit video" that appears to be "Rodney King in reverse."
The rest of the segment featured the black correspondents on the show reacting to the Obama video, ending by playing a mockery of hyped-up Drudge-like tropes of African-Americans.
Watch the video below, courtesy of Comedy Central:
Part 1:
Part 2:

—–
Follow Josh Feldman on Twitter: @feldmaniac
Have a tip we should know? tips@mediaite.com
Josh Feldman - Senior Editor