Juan Williams Gets Heated With David Limbaugh On Hannity: You're Proposing 'Economic Armageddon'!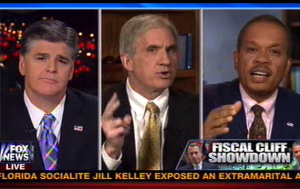 With fiscal cliff negotiations potentially going past Christmas, President Obama is continuing negotiations with John Boehner in order to find an acceptable compromise for both sides. On Sean Hannity's show tonight, Juan Williams and David Limbaugh clashed over exactly what the compromise should be, which side should be giving more concessions, and whose economic policies are more to blame for getting the U.S. to this point in the first place.
RELATED: Fox's Cavuto Cuts Off Explosive Battle With Democratic Congresswoman, Calls It 'Waste Of Time'
Hannity found it remarkable that whereas last year, the Republican nominees for president wouldn't even support a budget deal with ten dollars in spending cuts for every dollar in tax increases, and now the deal being worked out appears to favor revenue increases over cutting taxes. Limbaugh said that Obama isn't even coming to the table on that kind of deal.
Hannity said he doesn't want the Democrats to engage in "generational theft" with the help of the GOP, and concluded it might be "noble" for Republicans to stand their ground and go over the cliff. Williams was amazed Hannity appeared to be promoting "Republican suicide," and questioned why Hannity would want the GOP to be so "hard-edged" instead of compromising.
Limbaugh said absolutely no taxes should be raised on the economy on top of everything else that's happening. He criticized Obama for trying to raise spending, and Williams fired back by saying Limbaugh's position of "imposing more taxes [and] sending us over the fiscal cliff" is the more radical one. Williams said that Limbaugh is trying to push for "catastrophe" and "economic armageddon."
After a commercial break, Hannity confronted Williams about Obama's record and asked when the president will "restrain his impulse" to want to raise taxes and spending. Williams pointed out that Obama is making a concession by slowing the rate of spending increases. Limbaugh said it should not be a concession for Obama to do the reasonable thing. Williams retorted by saying this was "demanded by the GOP" and Obama actually agreed to it.
Williams told Limbaugh the entire conservative argument boils down to demanding that Boehner not negotiate with Obama on anything. Limbaugh insisted he wants any deal to seriously address spending cuts and entitlement reform, and charged that Obama is trying to do what is "against the interests of the nation." Limbaugh and Hannity agreed that the GOP has more leverage than they might think to work out a good deal.
Limbaugh told Williams that Obama is trying to "kill… the middle class," while Williams insisted that it's the GOP that's protecting the wealthiest Americans at the expense of the middle class. Limbaugh said the Democrats need to stop blaming the rich for the country's economic woes. Williams countered that the Republican party helped get the country into this mess and won't acknowledge their part.
Watch part one of the debate below, courtesy of Fox News:
And part two:
—–
Follow Josh Feldman on Twitter: @feldmaniac
Have a tip we should know? tips@mediaite.com
Josh Feldman - Senior Editor