Karl Rove Rips Ezekiel Emanuel: 'Ain't a Very Attractive Face' for Obamacare Supporters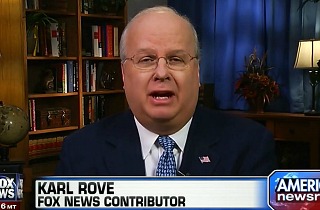 Dr. Ezekiel Emanuel, one of President Barack Obama's health care advisors, appeared on Fox News Sunday over the weekend where a tense exchange broke out over the assurances made by White House officials relating to the Affordable Care Act which have proven untrue. In reaction to this interview, former advisor to President George W. Bush, Karl Rove, told Fox News Channel' Bill Hemmer that Emanuel is one of the best spokespeople for the ACA that opponents of the law could ask for.

"If you want to pay more for an insurance company that covers your doctor, you can do that," Emanuel told Fox News Sunday's Chris Wallace when asked about how many Americans would be losing access to their preferred doctor as a result of the ACA.
"We now understand why [Chicago Mayor] Rahm Emanuel has a temper," Rove began. "His brother's his doctor."
"Dr. Zeke Emanuel has about the worst bedside manner of any physician I have ever seen or heard of in my life," he continued.
RELATED: Fox's Wallace Grills Ezekiel Emanuel on Obamacare Enrollment, 'If You Like Your Doctor' Pledge
Rove said that one of the assumptions of the ACA is that costs are rising for health care as a result of the number of choices Americans have for where and how they can receive care. "That necessarily means the president was absolutely lying when he said if you like your doctor you can keep your doctor," he asserted.
Rove said he was "amazed" that the White House is attempting to defend the claim that everyone who wanted to keep their doctor under the ACA could. He said that the president already personally apologized to the nation for the misleading claim that everyone who wanted to keep their plan could do so, and that apology could have extended to this claim as well.
Rove later said that the structural problems associated with the ACA persist and that it is "delusional" to think that any kind of public relations campaign could result in the amount of enrollees necessary to ensure the program's solvency.
"Frankly, as an opponent of Obamacare, I hope they keep putting Dr. Emanuel on television," Rove said. "But, if they really want to engage in a PR campaign, my advice would be stop letting him go on television and be the face of the program because it ain't a very attractive face and voice."
Watch the clip below via Fox News Channel:
[Photo via screen grab ]
— —
> >Follow Noah Rothman (@NoahCRothman) on Twitter
Have a tip we should know? tips@mediaite.com