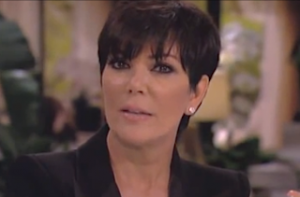 In last week's interview with Kindle Singles editor David Blum, President Obama held up celebrity power couple Kim Kardashian and Kanye West as examples of an unfortunate "shift" in American culture. And now he's getting an earful from Kardashian's mother Kris Jenner. On her talk show Friday, Jenner read Obama's quote about her daughter and the father of her grandchild before laying into the president for his disparaging remarks.
In the interview, speaking about average Americans' dreams and goals, Obama said:
"The American Dream involved some pretty basic stuff. A good job where you felt some security. A good education… People felt if they worked hard they could get there… I don't think people went around saying to themselves, 'I need to have a 10,000-square-foot house'… I think, there has also been a shift in culture. We weren't exposed to the things we didn't have in the same way that kids these days are. There was not that window into the lifestyles of the rich and famous. Kids weren't monitoring every day what Kim Kardashian was wearing, or where Kanye West was going on vacation, and thinking that somehow that was the mark of success."
"I wasn't aware that you could only set the bar so high," Jenner said. "And that we could only dream so big." Jenner said she was taught that if you "dream big and work hard, you could have whatever you wanted."
"I find it so odd that he's picking on Kim Kardashian and Kanye West," Jenner continued, noting that West "doesn't go on vacation, ever." And as for her daughter Kim, Jenner called Kardashian "the hardest-working young lady in the world. She never sleeps, she never stops, she never slows down and works so hard for what she's got."
On the issue of the 10,000 square-foot house, which in the president's remarks did not appear to be tied directly to the Kardashians, Jenner said her daughter's job "affords her to live in 10,000 square-foot house. And I think, if I'm not mistaken, that Mr. President's job affords him to live in 55,000 square-foot house. So, basically, my house would fit in his entry."
Jenner's comments about the size of the White House leave out some serious context about everything that is meant to happen in "the People's House." In many ways, they echo the sentiment of the recent NRA ad that asked if the president's kids are "more important than yours" because they get Secret Service protection.
Jenner said when Obama was young, he probably dreamed of becoming president one day and having a "wonderfully fabulous" life. She just wants to make sure he doesn't rob today's children of their ambition–whether they want to become Kim Kardashian or Barack Obama.
Watch video below, via Kris Jenner Show:

—
>> Follow Matt Wilstein (@TheMattWilstein) on Twitter
Have a tip we should know? tips@mediaite.com