Bill Maher Panel Defends Sarah Palin The Mom, Attacks Sarah Palin The Sex Object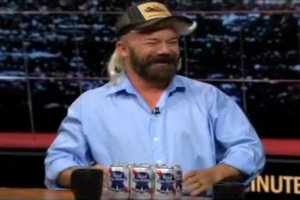 Meet Joe McGinniss' new Wasillan neighbor, Alaskan Andrew Sullivan! Not really, but if he ever decided to try and one-up the nonfiction author who famously moved into the house next to Sarah Palin, at least Bill Maher would help him blend in.
Yesterday, upon discovering Van Jones' new Twitter account, our own Steve Krakauer noted that Maher's round table last night would probably not be, to put it mildly, a rainbow of ideologies. What he probably didn't expect– who would've– was that Jones would be the most sympathetic person on the panel to Palin, actually defending her jabs at McGinniss and uniting with her in what he called "the Parents' Party." "We are all in the same party," he noted, and argued that "when someone gets that close to your kids, and they don't like you, you're going to have a certain reaction."
Proving that he doesn't really understand what libertarians are, Jones added as an afterthought, "usually the libertarians say, if you've got the money, do whatever you want," calling it hypocritical of them to defend Sarah Palin. Which they don't– case in point, Andrew Sullivan, who right off the bat called Palin a phony and commended McGinniss for investigating her background:
"If John McCain had spent more than three months– had John McCain had spent more than three seconds– if John McCain had actually done more than a 40-hour Google search… I think he should have hired Joe McGinniss like two years ago to find out why this crazy person has a right to be part of our discourse."
The mullet-and-PBR accesories were courtesy of Maher, who countered Sullivan noting that he was leading the charge against Palin before Joe Mcginnis was on the map, and should he wish to reclaim the top spot in the anti-Palin brigade, he'd need a costume.
As expected with the kind of polarizing personality Palin has, the panel doesn't stay too sympathetic for long, with director Judd Apatow chiming in about the Republican romantic mystique of Palin's persona. Sullivan has an opinion about that, too.
Video from last night's Real Time below (warning, language is NSFW):
Have a tip we should know? tips@mediaite.com