Maddow Rips Apart Politifact: 'You Are Ruining' Fact-Checking, 'Truly Terrible'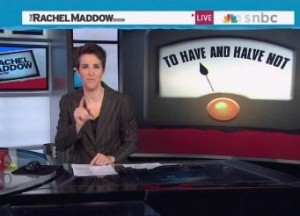 One of Rachel Maddow's favorite punching bags is the fact-checking site Politifact, for being self-appointed arbiters of truth who make rulings that appear to go against the very facts they lay out. Tonight she went after them again, this time for taking something they basically proved to be a truth and rating it a Half Truth. Maddow declared that Politifact is "truly terrible" and "ruining" fact-checking.
RELATED: Rachel Maddow Goes Nuclear On PolitiFact: 'You Are A Disaster'
This particular case concerns tennis champion Martina Navratilova who, while talking about Jason Collins joining the ranks of openly gay athletes on Face the Nation, claimed that in 29 states, you can get fired not only for being gay, but if your employer thinks you're gay.
Politifact looked into Navratilova's claim and found that she was correct on the number of states, and even posted stats backing up her claim, but ultimately ruled it as half-true because government employees in those states have protections, more local governments may have anti-discrimination laws, and individual employers can opt not to discriminate. But that still doesn't detract from Navratilova's claim being basically true, and Maddow tore into Politifact for quibbling over the facts.
She said that thank to "terrible" sites like Politifact, fact-checking has become "pointless" by trying to undermine the truth with unrelated information.
"The statement you were fact-checking is true, and until somebody figures out how to sue you in order to retrieve the meaning of the word fact from the dark and airless hole you have stuffed it into, Politifact, then no, it is not okay to just make this stuff up. You are truly terrible. Fact checking has to count for something, and Politifact, you are ruining it for everyone."
Watch the video below, courtesy of MSNBC:
—–
Follow Josh Feldman on Twitter: @feldmaniac
Have a tip we should know? tips@mediaite.com
Josh Feldman - Senior Editor