McCain to Fox: Defunders Lied to the GOP, 'Shouldn't They Be Held Accountable?'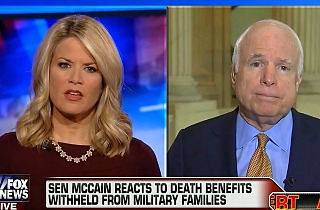 Sen. John McCain (R-TX) appeared on Fox News Channel on Friday where he was asked for his thoughts on the White House's days of inaction after learning that the families of fallen veterans would be unable to access their death benefits during a government shutdown. McCain quickly steered the conversation towards the reason for the government shutdown in the first place, asking when those in the Republican Party who forced it should be "held accountable."

Fox News anchor Martha MacCallum began by asking McCain how he thinks President Barack Obama has handled the news that veterans would be unable to access their benefits.
"I think it's been terribly handled by the White House, but let's have a little straight talk, Martha," McCain replied, immediately shifting gears. "They wouldn't have had the opportunity to handle it that way if we had not shut down the government on a fool's errand that we were not going to accomplish."
RELATED: GOP Rep. Lankford Tells CNN: Defunding Obamacare is 'Off the Table'
"The whole premise of shutting down the government was the repeal of Obamacare," he continued. "If we hadn't have shut down the government, this wouldn't have happened."
"Look at the Wall Street Journal poll this morning," McCain added. "24 percent of the American people approve of Republicans. That's an all-time low.
"We'd better wake up," he added.
When asked what the GOP would accept in order to reopen the government, McCain suggested the repeal of the tax on medical device manufacturers within the Affordable Care Act. He also endorsed the proposals of Rep. Paul Ryan (R-WI) who suggested reforms to entitlement programs. "But defunding Obamacare is not achievable," McCain insisted.
MacCallum pivoted back to the veterans benefits issue and asked McCain if he thought Defense Sec. Chuck Hagel should resign.
"This is not a reason for him to resign," McCain said.
"Everybody should be held accountable for it, but shouldn't the people who created this situation," he concluded, "shouldn't they be held accountable too?"
Watch the clip below via Fox News Channel:
[Photo via screen grab ]
— —
> >Follow Noah Rothman (@NoahCRothman) on Twitter
Have a tip we should know? tips@mediaite.com