Media Becoming Repulsed by Obama Ignoring Own 'Red Line,' Permitting Syrian Holocaust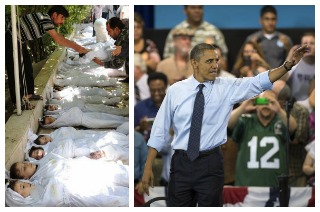 The images and videos out of Syria are abhorrent. Words fail to convey the nature of the indiscriminate holocaust unfolding in that country. Amid a civil war, Syrian government forces are reportedly escalating their use of chemical weapons on civilians. This is not the first time the Syrian army crossed the "red line" which President Barack Obama set himself one year ago, but it is the largest and most flagrant dismissal of the warnings issued by the President of the United States. The White House is silent on the matter – preferring to direct the nation's focus towards Obama's push on Thursday for a vague set of reforms aimed at reducing the costs of college. But some members of the press are refusing to ignore the unfolding humanitarian crisis and precedent-setting use of WMD's in Syria. Some are asking why the president is ignoring his own warnings, diminishing American influence and importance abroad, and allowing a strategically vital nation's civil war to explode outside its borders.

The visual evidence of a Syrian gas attack on civilians is overwhelming. In the name of civility and decorum, a number of media outlets have chosen not to broadcast or publish the images of young children convulsing, choking on the fluids filling their lungs, the palpable sense of terror in their eyes as they accept their imminent death. It's an understandable impulse, but it is the wrong one.
All should acquaint and familiarize themselves with the grotesque and unmitigated horror unfolding in Syria. The West had ample time to avert this crisis and chose to do nothing. Americans, in part, own this atrocity. Some outlets, like The Atlantic, The Washington Post, Mediaite, and others have chosen to publish the images and video of the horror of chemical warfare. It is not pleasant viewing, but it is necessary. While it is hard to fault anyone who chooses not to see these images for themselves – they are traumatic – it is harder to justify the decisions made by some media outlets to sanitize the carnage ongoing on the Mediterranean.
RELATED: Graphic: Video Emerges from Syria Showing Horrific Aftermath of Chemical Attack
And, to their credit, commentators on cable news and reporters in the White House Briefing Room are pressing the president and his administration to make good on their promises to recalibrate their approach to the Syrian civil war given that their own "red lines" have been so callously disregarded.
On Wednesday night, amid a flurry of perfunctory caveats expressing fears about arming poorly vetted rebel groups or putting American service personnel in harm's way, MSNBC host Chris Hayes appeared less conflicted than he had been in the past about the need to do something to stem the untold parade of horrors emanating from Syria.
In an interview with MSNBC contributor Rula Jebreal, who unequivocally advocated for Western intervention in Syria, Hayes tepidly agreed; not so much on humanitarian but on geopolitical grounds. Calling the acts of President Bashar al-Assad's acts "a war crime," an unambiguous term with a well-defined set of consequences, Hayes expressed his concern that the escalating chemical attacks in Syria are signs of a coordinated effort to test boundaries.
This is smart analysis and it is probably true. The Syrian government's increasingly brazen use of WMD's on civilian populations does suggest that they were, at one point, concerned about a Western response. This no longer appears to be a concern in Damascus. The reality that the President of the United States can issue a stern warning, be ignored, and suffer no consequences for that defiance will resonate across the world and through history. Boundaries will be tested elsewhere. Geopolitical stability will be threatened by state and non-state actors emboldened by Assad's successes.
On the right side of the political spectrum, Fox News Channel's Monica Crowley opened a segment on the Syria crisis on Wednesday with a clip of NBC News' Peter Alexander pressing White House spokesman Joshua Earnest to clarify exactly "how many more people need to die before the U.S. does employ some use of force?"
Alexander did not receive an answer. There is none to give. The White House has calculated that any action they could take would require a long-term commitment and deteriorate the White House's political position domestically when an already war-weary American public quickly tires of enforcing a ceasefire in Syria.
Fox News Channel contributor Richard Grenell highlighted the fact that U.N. Ambassador Samantha Power, who geared her academic career for this very moment, failed to attend an emergency Security Council session to address the crisis in Syria. Unable to marshal Russia and China to respond to the Syria crisis, America has simply abandoned its role in the region.
Grenell called the White House's detachment from the crisis in Syria an "outrage." And it is, but it's one the president has been preparing the American people to accept for years. President Obama's refusal to act on his own promises has diminished American influence abroad. It is a significant and inexcusable abdication of his responsibility as the commander of the world's only superpower. The yet unknown ramifications for this refusal to lead will be grave.
At least, some in the media are beginning to ask why this president is content to spend his time on the campaign trail in front of friendly audiences of wide-eyed college freshman while the world burns. It's cold comfort, but you take what you can get at times like these.
—
> >Follow Noah Rothman (@NoahCRothman) on Twitter
Have a tip we should know? tips@mediaite.com