Mediaite's Tommy Christopher: Bill Maher's Racial Stereotypes Were Worse Than Eric Bolling's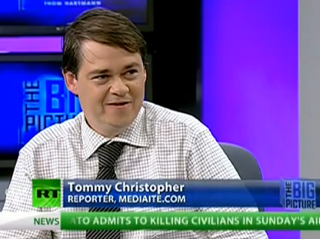 Obama impersonator Reggie Brown's appearance at the Republican Leadership Conference reignited concerns about what constitutes appropriate racial humor and whether there is a double standard over what cannot be said on the left and the right. On last night's The Big Picture on RT America, Mediaite Political Editor Tommy Christopher chatted with host Thom Hartmann about Brown's performance, racial humor, and the difference between Eric Bolling and Bill Maher.
Hartmann began the discussion noting that many were offended by what they perceived as racial insensitivity on Brown's part, and Christopher agreed that he could see an argument for such outrage. "These are people who have tremendous animosity for President Obama," he noted, "so they're not laughing with him; they're laughing at him, and these are racial jokes to they're laughing at his skin color." On the other hand, he noted that to him the Mitt Romney polygamy jokes were also cringe-worthy, and that by bashing Republicans, Brown proved to some extent that "he's not here to trash Obama, he's an entertainer." This still caught Republicans off-guard, he argued, probably also given to his previous work on Fox Business Network.
Hartmann also asked about another incident regarding conservatives and racially insensitive language– FBN's Eric Bolling "Hoodlums in the Hizzouse" remark, directed at African leaders and the rapper Common being invited to the White House. Christopher noted that Bolling had apologized for the incident and that "he might have a genuine misunderstanding of why people were offended by that," given that he did apologize once it was explained to him. Christopher also gave Bolling credit for arguing that Jon Stewart and Bill Maher said similarly offensive things without apologizing, and he did believe "liberals sometimes get away with things because they're liberals when they shouldn't," but ultimately that should not open the door to conservatives getting away with it as well.
The segment via RT America below:

Have a tip we should know? tips@mediaite.com