Medical Examiner Testifies Zimmerman's Head Injuries 'Insignificant,' Not 'Life-Threatening'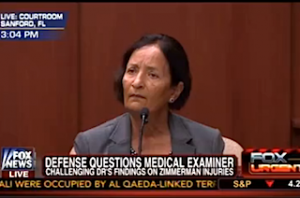 The prosecution in the George Zimmerman murder trial called a medical examiner to the stand Tuesday who testified that the defendant's injuries to the nose and back of the head were "insignificant," casting doubt on the amount of danger he was in when he shot Trayvon Martin in what he claims was self-defense. When defense attorney Mark O'Mara got his turn to cross-examine Dr. Valerie Rao he pressed her on just how minor those injuries really were.
When O'Mara asked Rao specifically about the injuries to the back of Zimmerman's head, which he claims Martin repeatedly "slammed" into the pavement, the doctor said she believed from the medical evidence that it only hit the cement sidewalk once. She suggested that even if his head did hit the ground "three or four" times, the subsequent hits after one or two did not cause any additional injury.
After a series of technical questions and explanations about the extent of Zimmerman's injuries, O'Mara attempted to negate the importance of Rao's testimony by asking, "Do you understand that the extent of injuries are not significant in this case?" When she failed to comprehend the question, the prosecution objected, saying the witness was being asked to make a "legal conclusion" she was not qualified to make.
Once O'Mara conceded that in Rao's professional opinion, "none of these injuries you identified as they turned out were in fact life-threatening," he asked, "What about the next injury?" When Rao again failed to comprehend where the defense attorney was going, he rephrased his question, posing the hypothetical, "Could the injury that he didn't have to survive–could that have been life-threatening?"
Once again the prosecution objected, this time based on "speculation." Judge Debra Nelson, replied, "Sustained."
When Fox's Shepard Smith jumped back in to offer some commentary, he predicted, "you can bet that on redirect" the defense will "try to get a witness to say there was more than" minor injuries to Zimmerman's head.
Watch video below, via Fox News:
—
>> Follow Matt Wilstein (@TheMattWilstein) on Twitter
Have a tip we should know? tips@mediaite.com