Megyn Kelly And Panel Ask: Will Obama's Handling Of Libya Be This Year's 'October Surprise'?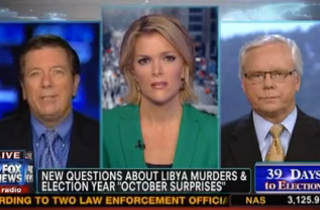 During a segment of America Live today, host Megyn Kelly and panel asked whether the unfolding situation in Libya and accusations of a cover-up by the administration will amount to this election cycle's so-called "October surprise."
Ed Rogers, a former assistant to President G.H.W. Bush told Kelly that he expects the "October surprise" to be "something dramatic" in bringing the Libyan attackers to justice and it will do some "political good" for the president.
Steve Murphy, a former Dick Gephardt campaign manager was more skeptical that any of the Libyan situation will form any sort of "October surprise." He pointed out that the historical examples people typically refer to all had no real impact on the outcome of the election — Jimmy Carter failed to make a deal with Iran, the elder Bush was already unpopular by October, and George W. Bush won the 2000 election despite the story of his DUI arrest.
"In this election, it's going to take a dramatic change in the basic dynamic of the election for Romney to win," continued Murphy, adding that he gets why some on the right are hoping for an October surprise: "I understand why people are trying to get it back."
"Barack Obama is winning on terrorism," he added.
For the rest of the segment, Kelly and Rogers argued with Murphy over whether or not the Obama administration knew, at the time of their official response to the Libyan attacks, that this was pre-organized terrorism and not a "spontaneous" response to a 13-minute anti-Islam YouTube clip.
Watch the segment below, via Fox News:
— —
>> Follow Andrew Kirell (@AndrewKirell) on Twitter
Have a tip we should know? tips@mediaite.com