Megyn Kelly Panel Clashes Over The NRA And Obama's Use Of Children For Opposing Messages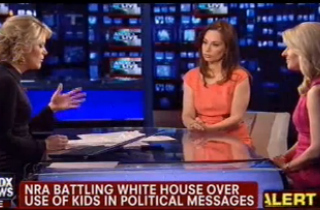 Following President Obama's announcement of 23 executive actions he signed into order as part of an initiative to reduce gun violence, Fox News contributors Julie Roginsky and Monica Crowley debated the merits of his proposals, his use of children in the background, and the National Rifle Association's use of the First Daughters in their latest ad.
"Anytime you use children to make a political point it's always a very dicey proposition and you have to be careful about doing it on either side," conservative guest Crowley said. "That being said, this president has used his daughters in campaign appearances, he used a beautiful child when he was signing ObamaCare, the health care bill. He has been known to use children as political props for purposes," she added.
Crowley continued on to say that Wednesday's press conference featuring children was "exploitation" and went "over the line" because the subject involves violence, and because it's a "cynical ploy" that puts the president's opponents in the position of arguing with children.
She also added her own defense of the NRA's ad which called the president a "hypocrite" for sending his daughters to school with armed guards while opposing the NRA plan to add more armed security in schools.
Host Megyn Kelly responded that "the president's children are in a special circumstance" and "are under threat at all times," thus the need for armed security. However, she expressed doubts that it was "appropriate" to talk about the First Daughters' personal security when talking about such a heated topic.
Liberal guest Roginsky chimed in: "It should not be a part of the issue. The NRA is reprehensible. If this were the Bush girls, it would be the same thing. There's no excuse dragging little Sasha and Malia Obama, who did not ask to be the president's daughters." The Democratic consultant also called upon the NRA to pull the "inexcusable" ad because it "will probably endanger the girls more than they're endangered already."
Watch below, via Fox:
— —
>> Follow Andrew Kirell (@AndrewKirell) on Twitter
Have a tip we should know? tips@mediaite.com