Michele Bachmann Dismisses The 'War On Women' Because She Won The Iowa Straw Poll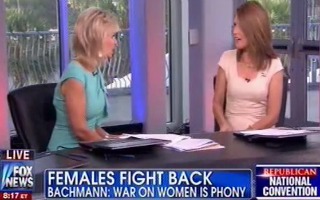 Rep. Michele Bachmann (R-MN) appeared on Fox & Friends on Tuesday where she took on the "war on women" that Democrats are accusing Republicans of waging. Bachmann said that she represents a diverse party and recalled that only the GOP voted for a women to win the nation's first contest — the Iowa Straw Poll. 'That'd be me," she noted.

RELATED: At FL Rally, Michele Bachmann Links Natural Disasters, Religion And Politics… Again
Gretchen Carlson introduced Rep. Bachmann by identifying her as one of the Republican party's women who are "fighting back" against President Barack Obama who has attacked the GOP for waging a "war on women."
"Is it really a war on women," Carlson asked Bachmann.
"Absolutely not, It's the biggest fake you've ever seen," said Bachmann. "And it's because President Obama can't talk about his record."
"He's trying to get women so he's trying to create this phony narrative that, somehow, we don't like women," said Bachmann. She said several prominent GOP women officeholders and figures will be speaking tonight.
"President Obama has hurt women terribly economically and their economic prospects – especially the prospects for their children – and I think that's what the Romney/Ryan ticket offers; is a better way out for women," Bachmann continued.
Carlson asked Bachmann if she feels like a role model for Republican women.
"Only the Republican party had a women who won the first contest – the Iowa straw poll. That'd be me," said Bachmann. "So, we are a party of women."
She said that Herman Cain and herself represent diversity in the presidential contest in 2011-2012.
Finally, Bachmann was asked to weigh in on President Obama's recent interview with the AP in which he said that, if reelected, he hopes to work closely with the Republican opposition. "It's about time," said Bachmann.
"The first two years of his term, he had Nancy Pelosi and Harry Reid ran the entire show," Bachmann continued. "Democrats ran every lever of power and they got socialized medicine, the takeover of the student loan industry, the banking industry – one industry after another."
"The real consequences of where the economy is at right now is due to the President's policies," Bachmann continued. "The President could compromise today. Why wait?"
Watch the segment below via Fox News Channel:
> >Follow Noah Rothman (@Noah_C_Rothman) on Twitter
Have a tip we should know? tips@mediaite.com