MSNBC Co-Hosts Slam Romney Campaign For Racially-Charged Welfare Attacks On Obama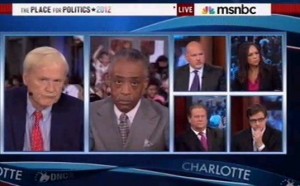 On MSNBC tonight, the roundtable of hosts revisited the attacks from the Republican party on welfare work requirements that multiple fact checkers have dismissed as completely false. Rachel Maddow compared it to a racially-charged ad the GOP ran against African-American candidate Harvey Gantt in 1990, and both Al Sharpton and Chris Matthews ripped the Romney campaign for launching such a blatantly racial attack on the president.
RELATED: Rachel Maddow: Romney Is Trying To Win By 'Deliberately Running Against Minority Voters'
Rachel Maddow noted how the Romney campaign is continuing with the attacks on Obama over welfare, saying that it seems to be "stok[ing] white voters' economic resentment about lazy welfare recipients and the black president who wants to give them your hard-earned money." Sharpton said that the Republicans are not even being subtle about racially-charged attacks on the president, and said that the GOP should stop injecting such "poison" into the presidential race. Republican strategist Steve Schmidt pointed out that Democrats have engaged in similar tactics in the past, and was briefly rebutted by Melissa Harris-Perry.
Schmidt pointed to an ad from the NAACP years ago that criticized George W. Bush in a similarly divisive ad. Sharpton responded by saying there is a difference between such ads released by independent organizations and the Romney campaign leveling such charges itself and they need to be accountable for the attacks. Matthews used it to attack a larger trend of Republican attacks on minorities.
"This is strategy. Make sure as few blacks as possible vote this election… treat the president like he's driving on the Jersey turnpike. Stop him for his papers. Make him show his papers. That's what they did to him. That's how they treated the president."
Matthews dismissed the idea that the trend of Republicans targeting minorities over the country was not just a series of accidents.
Watch the video below, courtesy of MSNBC:
msnbc
Have a tip we should know? tips@mediaite.com
Josh Feldman - Senior Editor