MSNBC Contributor: 'Absolute Vitriol' And Lack Of 'Basic Human Sympathy' To Trayvon Family On The Right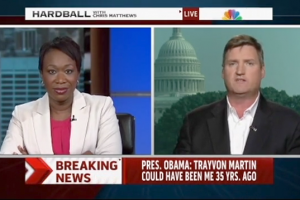 President Obama's remarks on Trayvon Martin today were immediately met with anger and outrage on the right, including one comment that Obama is the "race-baiter in chief." On Hardball today, MSNBC contributor Joy Reid touted this as the latest example of Republicans not caring at all about expanding their appeal to minority groups. She told Republican strategist John Feehery that the right has idolized Zimmerman while lacking any kind of "basic human sympathy" for Martin's family.


RELATED: Tea Party Host David Webb Hits Obama For 'Playing Into Black-White Racist Dynamic' With Zimmerman Speech
Feehery told guest host Michael Smerconish that he would personally advise Republicans to respond to what Obama said "very carefully," and while he thought it was important for Obama to speak out, he wished the president had talked more about the media "fostering fear" in the Zimmerman case. He explained that if Republicans want to grow their base, they can't get too involved in explosive debates on the subject.
Reid almost immediately dismissed everything Feehery said. She told Smerconish, "I don't see any context in which Republicans are trying to grow their base in any policy matter." Feehery interjected to dispute that, but Reid cited the heated immigration debate before telling him it's too late for the GOP to tread lightly in the Zimmerman case.
"On this issue, what I have heard is absolute vitriol toward Trayvon Martin and his family, and embracing of George Zimmerman as some sort of folk hero on the far right. I haven't seen any responsible voices in the Republican party saying that's a bad idea, and not even any basic human sympathy for the family of Trayvon Martin."
She continued that she has been "called the n-word every 30 seconds" on Twitter from people from the far-right since the verdict, and challenged Feehery that there is no one in the GOP who has stood up and said they need to "stop constantly overdoing our attacks on Barack Obama, because it's turning people off." Feehery noted the way in which the media's presented the Zimmerman case has been "utterly destructive to the country," and the two of them rehashed previous arguments about the facts of the case before Smerconish jumped in.
Watch the video below, via MSNBC:
—–
Follow Josh Feldman on Twitter: @feldmaniac
Have a tip we should know? [email protected]
Josh Feldman - Senior Editor