MSNBC Host Reports on Christie Announcement Using Only Horrible Driving Puns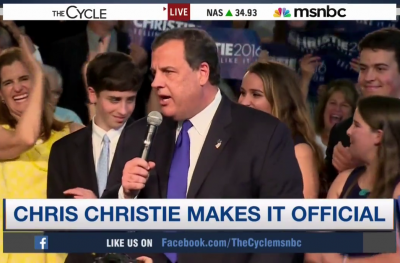 You'd think someone named Krystal Ball would be more sensitive about puns. But the MSNBC host opened The Cycle's coverage of Republican presidential candidate Chris Christie's announcement speech with a long string of painful driving puns, obviously a play on the Bridgegate scandal looming over Christie's campaign.

Here's an exhaustive list of the puns:
"Chris Christie is officially on the road to 2016. But is he crossing a bridge to nowhere?"
"New Jersey's most defensive driver is trying to merge onto the fast lane to the White House."
"This is not exactly the road less traveled, folks."
"Chris Christie's got a long commute ahead and hopefully there's no lane closures."
"Governor Christie drove home his message…"
"No GPS for this speech, people, minus a teleprompter." [Ed: Lame. This one isn't even a real saying.]
"Christie spoke for 35 minutes and he was careful not to detour off message."
"He clearly wants to make sure another Democrat or maybe one of his 13 other Republican opponents doesn't park themselves in the White House."
"The road to 1600 Pennsylvania Avenue is 231 miles from the announcement today in Livingston, New Jersey."
"If the latest polling is any indication, Chris Christie already in a traffic jam."
"Even if he arrived on time to the first presidential debate, it's not clear if he'd even find a parking space on the stage."
"Let's shift now to MSNBC's Kasie Hunt for reaction to the speech," Ball finally finished over groans from her co-host Neblett.
Watch, via MSNBC:
[Image via screenshot]
——
>>Follow Alex Griswold (@HashtagGriswold) on Twitter'
Have a tip we should know? tips@mediaite.com