NBC News' Pete Williams Reports FBI 'Really Isn't' Conducting Clinton Foundation Investigation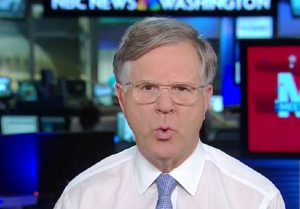 Appearing on MSNBC's MTP Daily today, NBC News' justice correspondent Pete Williams refuted much of the reporting from Wall Street Journal and Fox News regarding a likely indictment regarding an FBI investigation into the Clinton Foundation. Fox's Bret Baier later backed off slightly, saying the indictment comment was "inartfully answered."
Speaking to host Chuck Todd, Williams claimed that via his own law enforcement sources, there doesn't actually appear to be much of an investigation, let alone one that will result in indictments.
"There really isn't one," Williams answered Todd regarding the status of the investigation. "Few want to call it an investigation. That's a term of art in the FBI. There was an initial inquiry that was opened a couple months ago based largely on media reports and a book called Clinton Cash."
Williams also addressed a Fox story that states the there was a 99% chance that five foreign intelligence entities breached Hillary Clinton's private email server. Williams tossed cold water on that one as well, stating that there is "no such view" and that they "found no positive proof of successful hacks."
Meanwhile, ABC News also said there was no merit to the reports that the FBI is seriously investigating the Clinton Foundation.
In February, FBI agents presented their findings to senior FBI officials and prosecutors in the Justice Department's public integrity section, sources said. But the prosecutors and senior FBI officials agreed that there was no clear evidence of wrongdoing and that a criminal case tied to the Clinton Foundation could not be made, according to the sources.

"It was not impressive," one source said of the February presentation. "It was not something that [prosecutors] felt they could authorize additional steps for. They were not impressed with the presentation or the evidence — if you could even call it evidence to that point."
ABC's report also stated that while there has been conversation within the the department about the matter, nothing has been pursued and there is no reason to press charges at this time.
Watch the clip above, via MSNBC.
[image via screengrab]
–
Follow Justin Baragona on Twitter: @justinbaragona
Have a tip we should know? [email protected]