Neil Cavuto To Rep. Ron Paul: Would You Appoint Sen. Rand Paul To A Cabinet Position?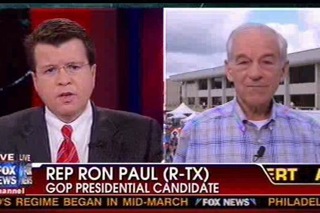 Rep. Ron Paul is having the best political campaign of his life, with very real possibilities of taking the straw poll in Ames, Iowa today. Rep. Paul stopped by to answer some questions with Neil Cavuto today, sounding very optimistic and railing against paper money. But before he left, Cavuto had a rather interesting question for the Congressman: would he be open to appointing his roommate, son Sen. Rand Paul to a White House position.
"Things are looking pretty good, there is a lot of enthusiasm," Rep. Paul told Cavuto from Iowa, where his operation seems to have collected some pretty visible fans (and props). He answered boldly on an inquiry about his governor Rick Perry's entry into the race, and whether it would overshadow a potential win on his part.
"It would show people in the media still aren't looking for the real answers [if] you have a candidate who is part of the status quo getting all the attention," he replied. Pushed on the "status quo" claim further, Rep. Paul reminded Cavuto that Perry "had a Tea Party candidate run against me" and predicted he would likely "interfere with Romney and a few others" but not with him. He then answered some questions on the stock market (he'd only invest in a stock "if they invest in gold or silver") and entitlement programs.
Cavuto then asked about the potential of a Paul presidency, and not just in terms of this Congressman winning: "Would you appoint Rand to your administration? Paul didn't seem entirely sure of whether he could do that, replying quickly "I don't know if that's legal," but asserted that his son is "good at politics" and would at the very least be someone he would call up for advice on matters.
The segment via Fox News below:

Have a tip we should know? tips@mediaite.com