O'Reilly Gets In Shouting Match With HotAir Editor Over Mandatory Minimums For Drug Dealers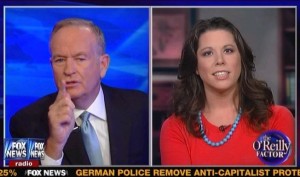 Bill O'Reilly opened his show tonight by talking about "hidden agendas" from the left. Although some talk of Occupy Wall Street was sprinkled here and there, the segment focused on O'Reilly's outrage at a New York Times editorial over the weekend that argued against mandatory minimum sentencing for people convicted of drug trafficking. O'Reilly squared off with HotAir editor-at-large Mary Katharine Ham over the effectiveness of such sentences.
RELATED: Bill O'Reilly Takes On California Medical Marijuana Purveyors
O'Reilly dismissed pushes to legalize medical marijuana in some states as a "ruse," and slammed the Times for its "extreme" position, asking "If your daughter turns up dead tonight from an overdose of narcotics, do you think the person who sold her those drugs is a victim?"
Juan Williams made the same case that politicians all over the country, even prominent Republicans like Chris Christie, have been saying: the war on drugs is a failure. Ham said that she agreed with the Times editorial because it showed a level of skepticism about use of government money that she was surprised to see in the Times.
O'Reilly said he wanted to take it out of the "theoretical realm," and switched to posing a theoretical scenario in which Ham had a daughter that overdoses, asking her what kind of punishment she would want for the person who sold her drugs. Ham first responded by telling O'Reilly, "that was theoretical and what I was talking about is an actual law in Florida."
She agreed that in O'Reilly's scenario should go to prison, but said a judge should have "discretion" to decide what the sentence should be. O'Reilly interrupted to say, "I don't want to hear this." He argued there should be a ten-year mandatory minimum for people like that. Williams told O'Reilly that if it was his daughter in that scenario, "I'd want the guy killed," but separated his belief from what he thought the policy should be.
O'Reilly mocked the idea of parole and rehabilitation, arguing that those are ways drug dealers exploit the system to just getting a "slap on the wrist."
Watch the video below, courtesy of Fox News:
—–
Follow Josh Feldman on Twitter: @feldmaniac
Have a tip we should know? tips@mediaite.com
Josh Feldman - Senior Editor