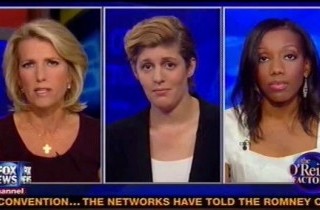 On Wednesday's edition of The O'Reilly Factor, liberal guests Sally Kohn and Tara Dowdell fought with guest-host Laura Ingraham over whether the Democratic Party is going "overboard" with the theme that the GOP is engaged in a so-called "War on Women."
Kohn told Ingraham that while GOP Senate candidate Todd Akin's remarks have been roundly denounced by fellow Republicans, they largely agree with what he believes, adding that the latest Republican Party platform "would constitutionally ban all choice, and take away all control women have over their own bodies including –"
"All control?" a skeptical Ingraham interrupted.
"They want to tell women who are raped that they have to have the baby of their rapist," Kohn replied. "That's not a war on rapists."
Ingraham then pointed out that most Americans are opposed to abortion and so the "war on women" accusations are like "me coming back and saying well, Barack Obama, a lot of his people are for partial-birth abortion. That's wildly unpopular in the United States. So he is against babies."
"Congressman [Peter] DeGraaf says women should plan ahead for rape. This is a pattern of extremism which is turning women off," interjected Democratic strategist Dowdell. "President Obama has a double-digit lead over Mitt Romney according to the latest Wall Street Journal poll because women do not like this kind of talk. Blaming them for being raped? No, that's not how any party should be talking about any kind of women's issues."
Ingraham later took issue with what she believed were the two panelists' belief that the Republicans have been "dragging the conversation back" to abortion issues instead of the economy.
"No. What I'm saying is that no one is holding a gun to any of these Republican politicians' heads who are talking about everything but the economy," Dowdell replied.
"You guys, that's all Paul Ryan has been talking about the budget and the economy," Ingraham retorted.
"The press has picked up on these comments because people are making these comments," Dowdell continued. "If they didn't make the comments, there would be nothing to pick up on."
Watch below, via Fox News:
— —
>> Follow Andrew Kirell (@AndrewKirell) on Twitter
Have a tip we should know? [email protected]