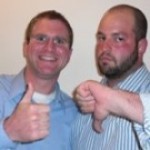 Who: Brian Williams, interviewed by Jeff Greenfield
What: "In the News with Jeff Greenfield – Brian Williams"
Where: 92nd St. Y
When: April 18, 2010
Thumbs: Up
Brian Williams said proudly that he grew up watching Johnny Carson and Walter Cronkite. This comes as no surprise to his fans who recognize that on a regular basis Williams finds the perfect blend between comedy and self-deprecation and earnestness and seriousness.
While Williams acknowledged that the days when families gathered around the TV for the 6:30 news – as his did – are long gone, he reminded the audience that nightly newscasts still do very well ratings-wise. He pointed out that NBC's ratings in February, for example, were three to four times better than Bill O'Reilly's were. And, he added, broadcasts are still the main source of news for Americans, ahead of websites and newspapers.
What does Williams read on the internet? "Mostly aggregators," he said. Drudge and HuffPo are in the mix with Time, Newsweek, The Wall Street Journal, The New York Times, New York Post, and USA Today. There are no bloggers that Williams would cite by name as being on the A-list, but he did credit Gawker for its breaking coverage of the Fort Hood massacre last year. That evening, he said, Gawker was beating the networks to information by an hour or two. Williams admitted that around the time of major events or decisions – Supreme Court, elections, natural disasters – he checks blogs to see what they're reporting.
But those sites are limited. Nightly news excels in its world news coverage. On-the-ground reporting is especially close to Williams' heart, and he credits NBC for allowing him to do so much of it despite the stark reality of its expense. That's something new media doesn't yet do well. It's a good thing we have anchors like Williams providing images and reports we can conjure up when framing and reconsidering our impressions.
What They Said
"When you get to the afternoon, Fox goes from the attractive Munster daughter to the monster under the stairs."
– Brian Williams looks at how the news competition shapes up

"I think people confused the coverage on behalf of the electorate with coverage of the man."
– Brian Williams responds to criticism that the media is in bed with Obama with a simple answer: his story had actual significance.

"When complaints are down the middle, I'm happy. All is right in the world."
– Brian Williams says that he judges his bias – and fairness – in reporting based on the feedback he receives
"If you're covering a rally and one of them is doing something to a plastic doll…I'm just saying."
– Brian Williams tries to explain why the Tea Party has been depicted the way it has in the media

What We Thought
Jeff Greenfield set a very high bar for other interviewers. Not only were his questions well-considered and -prepared, he added his own thoughts and impressions to the back end of Williams' comments. As a veteran media professional himself – and equally worthy of being in the interview seat, no doubt – Greenfield brought insights and stories that further enhanced the discussion.
We agree with Williams and Greenfield that newspapers continue to offer something that websites cannot: the stumble. Some subjects like architecture aren't as prone to make you click a headline. But if reading a newspaper, Williams said, you might find yourself intrigued by the story as you scan your eyes over it. We know that we've discovered interest in topics we didn't plan to read about as a result of the newspaper stumble.
PANEL RULES!
Some audience behavior seems to repeat itself panel after panel. We'll be updating a running list of "PANEL RULES!" that will help ensure that you are not the dweeb of the Panel Nerds.
Panel Nerds don't like…Tiger spotters
While most of the questions were excellent, one stood out for us as a tad low-brow. Someone wanted to know why the media had run "hog wild" with Tiger Woods' coverage and when it would cease. Williams protested that his network had covered it only "sparingly" because he doesn't really see the news value in the story. The merits of the need to cover the story can be debated. But not in April. We've already seen the Masters go by and a definite dissipation in the interest and coverage of the story. This question would have had some teeth if it was posed back in December or January. In April, it's just an old story, even for those who secretly want to know what will happen next for Tiger.
Have a tip we should know? tips@mediaite.com