Rachel Maddow Delves Into Bachmann-Endorsed 'Crackpot' Iowa Anti-Porn Petition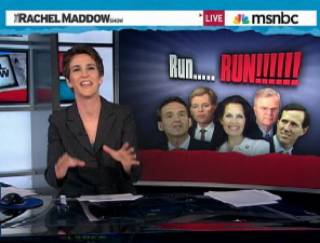 It is difficult for a commentator like Rachel Maddow to explain the current climate in the Republican Party, so last night she went to explanation by way of analogy. There was a time when KKK leader David Duke won a Republican primary– against incumbent Republican governor of Louisiana Buddy Roemer. Roemer is running in 2012 for President and, yes, Duke is considering it, too. This, Maddow argues, is a product of the same Republican "crackpottery" that brought us the infamous Iowa pledge Rep. Michele Bachmann signed yesterday.
Maddow didn't intially dig into that pledge, though, but looked at another potential 2012 candidate, Rick Perry— and a pastor affiliated with him who has called Oprah Winfrey a "harbinger of the anti-Christ" (she is, he posits, "kind, reasonable, and utterly deceived"). So the "horrible pastor" fad seems not to have died in 2008, but Maddow moved on fairly quickly from there– to the pledge Rep. Bachmann and Rick Santorum signed this week. Aside from requiring both that candidates ban porn legally and not watch it (which Maddow notes may present a bit of a complicated situation), the pledge also requires they not cheat on their spouses, fight Sharia Law, assert that gay and lesbian people choose to be such, and has a few words on "intrusive intimate comingling among attracteds." And, of course, there's all the bizarre slavery stuff.
Maddow described the entirety of the pledge as something that starts out sounding rational under the Bilderberg Group is mentioned and "I saw this thing on Alex Jones" becomes the center of the piece. For comparison, she joked, "If you took a cracked pot and you cracked that cracked pot, you would be approaching the level of crackpottery we have here."
The segment via MSNBC below:

Have a tip we should know? tips@mediaite.com