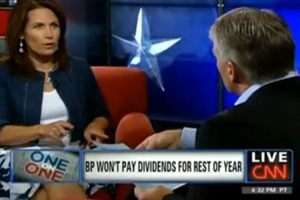 Congresswoman Michele Bachmann made possibly the most favorable comments towards BP the company has heard in the past 57 days, suggesting they refuse to "be fleeced" by the Obama administration. Tonight she sat down with CNN's John King to defend those comments, opening her defense with "I'm not here to shill for BP." Instead, she argued, she was defending the greater free market from the big government tendencies of the Obama administration.
Bachmann's tone was calm and her she left her most incendiary vocabulary at home, asserting that "as long as people are getting their claims paid, everyone is happy." That said, she continued, she didn't want to see a politicization of the claims payments in the Gulf oil disaster by having the government oversee all the payments. Beyond the political aspect, Bachmann also noted that she was prone not to trust the government because of the experience with the White House in the past year and a half:
"This is a complete difference in the way that the United States was run 18 months ago. But today, it seems like the automatic effort from the government is 'let's have the federal government take over private industry.' We don't want that to be the automatic response from government because we are a free-market economy. And, unfortunately, the Obama administration hasn't been making any efforts to unwind the government out of these private industries."
Without having to use the magic word ("socialism"), Bachmann managed to calmly argue that Obama's approach involved something too close to nationalization to be in her comfort zone, and indicate that BP needs to stand up against those efforts. Those who were expecting Bachmann to sound a little like her comrade-in-arms Sarah Palin did last night were disappointed: she managed to rephrase a message that initially sounded adamantly pro-BP into reasonable-sounding anti-socialist commentary.
Video from tonight's John King USA below:

Have a tip we should know? tips@mediaite.com