Scarborough Warns: GOP 'Better Tread Lightly,' Obama Gun Proposals Enjoy 'Overwhelming Support'
Scarborough: GOP 'Better Tread Lightly,' Obama Gun Laws Enjoy 'Overwhelming Support'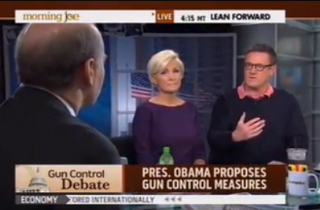 After reviewing President Obama's 23 "executive actions" signed into law yesterday, Joe Scarborough
said Thursday morning that his Republican Party had better proceed with caution, seeing as how he believes the policy proposals have the "overwhelming" support of the American people.
The president's plan included universal background checks on gun purchases, which Scarborough said has the support of at least "85% of Americans." The president's call for a restoration the "military-style assault weapons" ban, the MSNBC host said, enjoys at least "60/40" support. "Almost 7 in 10 americans support" limiting magazines to holding a maximum of ten rounds, Scarborough added. Other proposals, he said, enjoyed "80/20" to "90/10" support.
"My Republican Party," he warned, "better tread very lightly. They'd better be very careful. They have wandered in and followed the NRA, whose made some horrible PR mistakes over the past month. Republicans better be careful and think twice before they make their next move."
"The emotional force of the Sandy Hook families is just like it was with the 9/11 families. and Republicans have got to face up to that," panelist Richard Wolffe added. "Frankly, Democrats have to face up and grow a spine here as well. They have run away from the gun debate for 20 years or so because it's helped them get into power in some states."
Scarborough jumped back in to praise the president's gun announcement speech:
One of the president's strongest moments is when he said if you have a congressman or congresswoman that supports assault weapons, ask them why. See, that's where the extremists, that's where the survivalists lose this argument. Why do you need an assault weapon? Why do you need a high-capacity magazine? You start talking to them, and it always goes back to the same thing. Always. It's either one, 'I like target practice. It's fun.' That's certainly not a reason to protect that right. Or number two, they say, after much prodding, 'Because I'm afraid one day the government may come after me, and I will need to use my assault weapon on U.S. soldiers that are coming to my house.' They don't say it exactly that way, but that's what it always boils down to. And Republicans need to understand that at the end of the day, that's just a losing argument.
Watch below, via MSNBC:
— —
>> Follow Andrew Kirell (@AndrewKirell) on Twitter
Have a tip we should know? tips@mediaite.com