Sen. John McCain: 'I Don't Think American Public Opinion Would Stand For' Another War In Middle East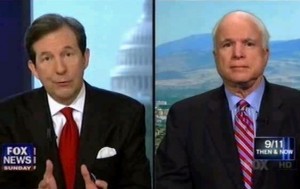 While defending the United States' current military involvement in Iraq and Afghanistan, Senator John McCain acknowledged that most Americans are not in favor of further military intervention in the Middle East, and discussed how changing mores in the region have affected the influence of terrorist groups.
Chris Wallace asked McCain to explain his opposition to President Obama's plan to withdraw surge troops from Afghanistan, suggesting now might be a time to focus on the home. McCain argued that "there was no military person anywhere" who wanted the withdrawals to occur before the second fighting season or doesn't want a residual fighting force. He also added that the conflict in Libya could have been resolved sooner if "the full weight of American air power" had been used in that particular circumstance. He criticized the oft-quoted "leading from behind" policy, and insisted that now is not the time to "withdraw… the fortress of America."
Wallace took McCain's prediction that the United States would not be getting involved in yet another war, and asked him if he could say so with confidence. McCain argued that public support would not be behind another military intervention in the region.
I don't think American public opinion would stand for it. I do believe that we have developed new ways of countering this threat. I don't think there's any doubt that al-Qaeda is back on their heels, but there are places like Yemen and Somalia and other breeding grounds where this threat will be with us for a long period of time.
McCain also mentioned the declining influence of terrorist groups like al-Qaeda in Middle Eastern countries because of the recent protests taking place in many of them.
The Arab Spring is a repudiation of al-Qaeda. The Arab Spring proves that people can peacefully demonstrate and change their government, and it's a repudiation of the strategy and tactics of terror and murder that al-Qaeda has employed. Don't get me wrong, there's going to be two steps forward and one step back in the Arab world, but I think that over time this repudiation of al-Qaeda will work to our advantage. But we're going to have problems there and issues and threats for as long as you and I are around.
Finally, McCain defended his previous claims that the war on terror could last for the next several decades. He predicted that nations like Yemen or Somalia could be "a breeding ground for this kind of hatred," but remained confident that ultimately the United States "would prevail over the forces of evil."
Watch the video below, courtesy of Fox News:
Have a tip we should know? [email protected]
Josh Feldman - Senior Editor