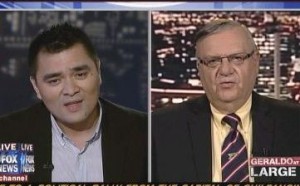 Geraldo Rivera brought Arizona sheriff Joe Arpaio and journalist/undocumented immigrant Jose Antonio Vargas onto his show tonight to have it out over the sheriff's enforcement of immigration law. Rivera and Vargas hit Arpaio on his arrest of a six-year old illegal immigrant and his long-standing policy of throwing criminals in tents if there was no room left in the prison.

RELATED: AZ Sheriff Joe Arpaio: 'We're Going To Continue Enforcing The Illegal Immigration Laws'
The first question Rivera had for Sheriff Joe was whether he arrested the six-year-old illegal immigrant on the day of Obama's announcement to stick it to the president. Arpaio denied the two were connected, and insisted that no matter what the Supreme Court decides on SB 1070, he will continue to enforce it and arrest illegal aliens. As for those who now qualify under the president's new order, he said any state criminals would be immediately thrown in jail.
Rivera also got Arpaio to open up about his policy of putting excess prisoners in tents that are not properly air-conditioned, asking him if doing so is "inhumane." Arpaio explained the tents have been up for almost 20 years and half a million people have been inside them at one time or another. Rivera revealed right before a commercial break that he had Vargas in the studio with him, and when they came back, the sheriff and journalist briefly squared off.
Vargas pushed Arpaio on his tent policy, and Arpaio continued to defend it as a "good policy [that] saved millions and millions of dollars of taxpayers' money."
Watch the video below, courtesy of Fox News:
Have a tip we should know? tips@mediaite.com
Josh Feldman - Senior Editor