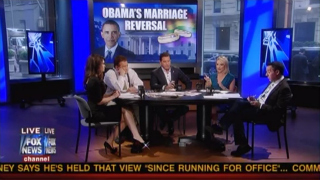 Following President Obama's remarks about his "evolution" on gay marriage earlier Wednesday, The Five co-hosts turned the news into a requisite roundtable debate. Co-host Bob Beckel praised the president's new stance, and others called the "evolution" a purely political move.
Beckel began the segment heaping praise upon the president and said that he doesn't think this flip-flop will hurt the president's electoral chances. Co-host Greg Gutfeld became annoyed when Beckel characterized the opponents of gay marriage as "Tea Party type of people," telling the latter that the issue of gay marriage never came up at Tea Party rallies.
Beckel bizarrely added, "It's called principles, Mr. Romney," which was met with belief from the rest of the panel, who pointed out that the president technically "lied" about his position for the last several years, seeing as how he was for same-sex marriage in 1996, before he ever held elected office.
Co-host Dana Perino then brought up that an Obama senior official told Fox News' Ed Henry that the president had planned to announce his new position all along, but closer to the Democratic National Convention in September. Eric Bolling and Perino agreed this was "B.S." and pure politics.
Gutfeld then went after Beckel's earlier assertion that the anti-gay-marriage crowd is made up of "Tea Party type of people," reminding him that the president's backlash fears actually came from black or hispanic voters, who tend to be more conservative and more against gay marriage than most people. "It had nothing to do with the Tea Party," Gutfeld declares. "It had to do with [Obama's] base."
After some more roundtable debate over who benefits the most from this "evolution," Gutfeld concluded that Vice President Joe Biden is the "hero," because he got the president to "get up there … and tell the truth."
Check out the full segment below, via Fox News:
Have a tip we should know? tips@mediaite.com