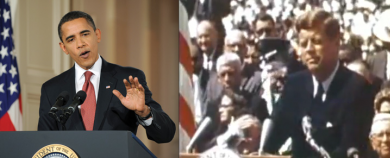 Today President Obama will be addressing the nation — again — about the black, sticky tragedy happening in the Gulf. Everybody, of course, has opinions on what he should say. But here's one interesting theme that has emerged: Obama should echo John F. Kennedy's 1962 speech about getting to the moon.
It's actually emerged twice. The first time was with NBC anchor Brian Williams, who used JFK's speech to Rice University students in 1962 as an example of how a president once exhorted a nation onward and upward to progress, declaring that the United States would send a man safely to space and back by the end of that decade. The second was yesterday on Morning Joe with Williams' NBC colleague, Joe Scarborough, echoing the sentiment and expressing the wish that Obama would make a similar statement — about ending the nation's dependence on oil by this decade's end.
From Williams back on May 16th — after the Containment Dome failed but before the Junk Shot and Top Hat were equally dismal solutions; before the SpillCam was launched, showing the neverending flow of oil into the Gulf; before scientists started to criticize the administration; before Obama announced his press conference to address the spill; even before the @BPGlobalPR twitter feed:
"I feel such a great and profound sense of urgency as I stand here… As we speak, there are 4 million gallons of crude oil in the Gulf of Mexico. Oil is pouring, billowing into the Gulf of Mexico. As I stand here, there is nothing to stop it – nothing at all. They've asked the public for ideas. We've run up against the science of our times. That is why I come to you today with urgency in my voice. It's a crisis – and let's not let it become a metaphor for our country or our times….We are staring, make no mistake, at a slow-motion environmental disaster. It will destroy one of the richest wetland estuaries on the planet, and my urgency is because of this: my certainly that this institution, this graduating class, has the brain power to fix it. And now you've just been asked."
Heavy stuff. Williams went on to use the year of his birth, 1959, as an example of what had — and had not — progressed since then. He gently mocked the iPad (it turns pages! like a book! remember books?) while lamenting the downtrodden state of infrastructure, continuing:
"That ribbon of highway we sing about… could use fixing and rebuilding. So could we. When did we stop trying? 60 million of us are obese. We have a 17% poverty rate. We've fallen to 9th now in global rankings of prosperity. One of the great things we ever did, almost without breaking a sweat: President Kennedy, speaking to a college – Rice University in Texas – said, "We're going to the moon." He put it in a speech in 1962. He gave a time limit of the end of the decade (which was big of him) – and we were standing on the moon in the summer of 1969. We forget that sometimes. And we're about to end of manned space flight. It might come back – we certainly need to come back."
He picked up the theme again, mentioned Kennedy's space speech once more on June 9th in his Daily Nightly blog:
I keep reflecting on the fact that John F. Kennedy gave a speech at Rice University in 1962. He said we were going to the moon by the end of the decade, and we were standing on the moon by the summer of '69. We could use a little bit of that right now.
Cut to yesterday, and Joe Scarborough on Morning Joe:
"I would make the John Kennedy speech that by the end of the decade, we will go to the moon. This president can say, thank god it's the beginning of the decade, by the end of a decade, America will break its dependence on foreign oil. By the end of the decade, we will control our own destiny. By the end of the decade, we will be positioned to dominate the world in energy for the next century."
And oh look, CNN just issued a bulletin: "Government officials raise estimate of oil spewing from a well in the Gulf of Mexico to 35,000-60,000 barrels per day." Wow. Color us shocked. Almost two months to the day since the Deepwater Horizon exploded in a tragic loss of life and destruction of unimaginable amounts of coastline, ecosystem, wildlife and whole swatch of coastal economy — there continues to be no solution.
So it's now that the words of President Kennedy almost 50 years ago echo back:
"We meet at a college noted for knowledge, in a city noted for progress, in a State noted for strength, and we stand in need of all three, for we meet in an hour of change and challenge, in a decade of hope and fear, in an age of both knowledge and ignorance. The greater our knowledge increases, the greater our ignorance unfolds.

Despite the striking fact that most of the scientists that the world has ever known are alive and working today, despite the fact that this Nation's own scientific manpower is doubling every 12 years in a rate of growth more than three times that of our population as a whole, despite that, the vast stretches of the unknown and the unanswered and the unfinished still far out-strip our collective comprehension."
If Obama matches the power of those words tonight — fantastic. If he matches them in action, even better.
President John F. Kennedy at Rice University, 1962: "We Choose To Go To The Moon"


Excerpt: John F. Kennedy's Moon Speech to Congress, May 25, 1961


Brian Williams' Address to Notre Dame Class of 2010


Joe Scarborough on Morning Joe urging Obama to Echo Kennedy
President Kennedy: Address at Rice University on the Nation's Space Effort [Rice.edu]
Brian Williams Delivers Commencement Address at Notre Dame [ND.edu]
President Kennedy's Special Address to Congress On The Importance of Space, May 25, 1961 [Home of Heroes]
Have a tip we should know? tips@mediaite.com