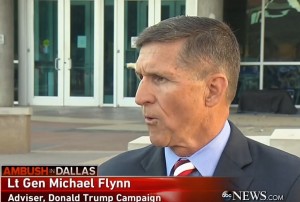 Retired Lt. General Michael Flynn is a member of presumptive Republican presidential nominee Donald Trump's ever-shortening VP shortlist, and while the immigration portion of his veep audition on ABC News' This Week with George Stephanopoulos probably helped him, Flynn's comments on abortion and gay marriage probably will not. When fill-in host Martha Raddatz asked Flynn to weigh in on several social issues, the former DIA head veered sharply from Republican orthodoxy.
He began by telling Raddatz that "I think women have to be able to choose," and that they are "important in that decision-making process," but went on to generally pooh-pooh the idea that he has any interest in issues other than national security:
FLYNN: Abortion, I think it's a, I think for women, And these are — these are difference issues. But I think women have to be able to choose what they — you know, that — the — sort of the right of choice. But I think that that's a — that's a difficult legal decision that — and I think that women are so important in that — in that decision-making process. And they are the ones that have to make the decision because they're the one that's — ones that are going to decide to bring up that child or not.

RADDATZ: Same-sex marriage: do you agree with the —

FLYNN: I don't have any — you know what, I mean, I'm like — I'm about national security. I'm not going to, you know, I mean, I —

RADDATZ: But if you — if you become a vice president, you have to be prepared to be president.How about — how about — immigration…

FLYNN: What people do in their private lives, I'm not — these are not big issues that our country's dealing with that are — that will cause our country to collapse. I'm more concerned that our country could collapse because we are not dealing with education issues, immigration issues…
Trump has a ton of baggage on the abortion issue himself, having previously supported reproductive choice, but running into controversy during his campaign over remarks suggesting thaty women should be criminally punished for having abortions.
This is an opinion piece. The views expressed in this article are those of just the author.