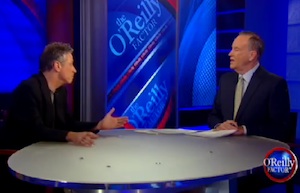 Last week's controversy surrounding the White House performance by rapper (and Gap spokesman) Common wasn't just overstated, but many felt that it was unfairly fueled by the right-of-center opinionators on Fox News. Take for example, Daily Show host Jon Stewart, who viciously went after Fox News over their coverage, in a segment that immediately became a viral sensation.
Fox News elder-statesman Bill O'Reilly respectfully took exception to Stewart's critique, and gracefully invited the self-proclaimed fake newsman on to The Factor to debate the issue, which will air this evening. Fox News has released a preview of the segment below.
What can we expect from this debate? Unfortunately for many, it will likely be a disappointment born purely from unreasonable expectations. O'Reilly likes to talk about the "culture wars" and many will incorrectly see this debate in such a light. Yes, there are stark political differences between O'Reilly and Stewart, but they aren't nearly the binary opposites as some would like to make them – they have far more in "common" than one might think at first blush.
While each of these cable personalities present news and information from a very well-honed and consistent perspective, neither are blindly following either a particular party or ideology. Yes, O'Reilly describes himself as a "traditionalist," and often speaks to older generations. And while Stewart avoids using such labels with himself (other than "comedian"), it doesn't take a genius to see that his often represents a rather progressive point of view.
More importantly, neither are afraid to point out absurdities and hypocrisies on either side of the debate; which makes Stewart's occasional criticism of President Obama that much more interesting (just as O'Reilly occasionally called out Bush during the prior administration.) Oh if only more opinion media types were courageous enough to play against type – wouldn't the world be a better place?
What's most fascinating about the debate between these two opiniotainment personalities is that, though they often disagree with each other on policy, they clearly share a pretty deep mutual respect for one another, and seem to be amused by one another's schtick. Oddly, they probably each consider the other to be the clown, and in some ways they are right. One can humor in both Stewart and O'Reilly, but it truly depends on the viewers perspective.
But what we have in these two individuals, for better or worse, are the voices of two distinct and separate generations. And while they will rarely agree on many specifics, it is worth celebrating their efforts to engage in a respectful and informative debate.
Fox News has released a preview of the interview below; we will have the full segment shortly after it airs this evening on The O'Reilly Factor, 8PM Eastern time.
Have a tip we should know? tips@mediaite.com