'You Would Not Have Donald Trump Without Roger Ailes': CNN Panel Reflects on Ailes Legacy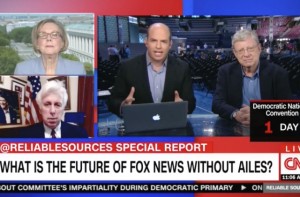 CNN's Reliable Sources reflected on the long legacy of Fox News Chairman & CEO Roger Ailes now that he's officially stepping down. And host Brian Stelter kicked things off with quite the big question: "Do you think we would have Donald Trump as the GOP nominee without Roger Ailes?"
Jeff Greenfield wasn't so sure, instead observing that "Roger Ailes did to the media what Donald Trump did to the political process"––namely, decrying rigged political/media systems and firing up a large group of people who feel unrepresented in the mainstream
Jane Hall, who used to regularly appear on Fox, heralded Ailes' departure––amid the investigation into allegations of sexual harassment––as "a good day for women in Fox News and also for women in television." While she did say that "you would not have Donald Trump without Roger Ailes," she did point to a culture at Fox where they pick one narrative and proceed to demonize the hell out of whoever's to blame this time (i.e. Iraq War dissenters, President Obama).
As for those rumors that Ailes may help out the Trump campaign, CNN Trump supporter Jeff Lord said Ailes certainly has the kind of track record that could prove useful to Trump. As for Ailes' legacy, Lord said the challenge for Fox right now is to decide whether they can bring in someone with "the political sense of Roger Ailes."
Greenfield pointed to how Fox News is currently split into three parts: the straight news division, "pamphleteers" like Sean Hannity, and Fox & Friends––"if ignorance is bliss, then it is the happiest show on television."
Stelter doubted that Fox would really "suffer" as a result of Ailes leaving, given what a powerhouse it is.
Watch above, via CNN.
[image via screengrab]
— —
Follow Josh Feldman on Twitter: @feldmaniac
Have a tip we should know? tips@mediaite.com
Josh Feldman - Senior Editor