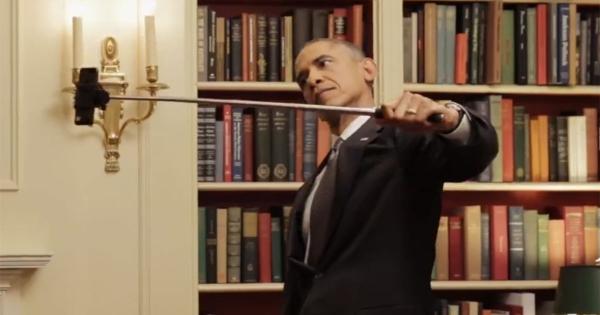 All the hand-wringing over the "Trump TV" is pretty amusing considering the ham-handed social media video is clearly a campaign product designed to emphasize positive news from the White House that may not be reported on mainstream media outlets and clearly not an attempt to fool viewers that the content is a journalistic endeavor.
Bloomberg's Margaret Talev gravely warned that "it's important for people to know it's not news," during a supposedly serious panel discussion Monday afternoon on CNN.  Really?  Because the American people are so stupid they might mistake this for real news like Bloomberg TV?
Join Kayleigh McEnany as she provides you the news of the week from Trump Tower in New York! #MAGA #TeamTrumpPaid for by Donald J. Trump for President, Inc.

Posted by Donald J. Trump on Sunday, August 6, 2017
Yes, it's amusing to see the Washington Post's hysterical comparisons to totalitarian propaganda and the usual heads exploding on Twitter were even more amusing.:
Last 11/3 we posited "Trump TV" wasn't his "fallback." It was a prototype for State Propaganda. It has now launched pic.twitter.com/AWuaI2yJfZ

— Keith Olbermann (@KeithOlbermann) August 6, 2017
"Wow. Feels eerily like so many state-owned channels I've watched in other countries," @McFaul https://t.co/IA9hSiHTZ7

— Eugene Scott (@Eugene_Scott) August 6, 2017
Wait… what about Hitler?
REMINDER: Hitler had his own form of media propaganda.

Trump TV is no different from that. pic.twitter.com/MDihwqwKiM

— Ernest Owens (@MrErnestOwens) August 7, 2017
THERE we go!
What is not amusing is that these critics failed to raise the red flag of propaganda when Trump's predecessor used American tax dollars to present himself with well-produced (and pretty expensive) videos that come a lot closer to bona fide propaganda than the Trump/Pence reelection videos they're complaining about.
Jim Treacher at The Daily Caller found some prime examples of Obama's use of video that you paid for. My personal favorite: Celebrities and citizens reflect on how incredibly awesome President Obama's eight years in office were.  You remember "My Obama Moment" don't you?
If that's not propaganda I've got a Leni Riefenstahl film for you to invest in.
Oh, I know, we conservatives aren't supposed to engage in "Whataboutism" because we have to accept that everything Trump does is awful and unconstitutional and probably racist without ever reflecting on his predecessor or viewing his actions in the context of what the media and the Left have accepted in celebrated in the past. But, if you'll allow me just one more nostalgic look back at the brilliance of the Obama White House's agitprop.
Remember West Wing Week?
The weekly infomercial produced with your tax dollars to highlight all the great things Obama did on a weekly basis. All the things the "fake news" won't show you that the president did.  Steve Thomas, Executive Director of the White House Correspondents' Association reminded his Twitter followers that the Trump TV isn't much different than Obama's West Wing Week:
Trend started with Obama team's weekly video recap of what it saw as the "news," called White House Week. https://t.co/fKzJG2ptBO

— Steve Thomma (@stevethomma) August 7, 2017
Although, there are two pretty big differences. The first is that the puff pieces and pro-Obama spin you see on West Wing Week don't actually vary too much from the CNN/MSNBC/ABC/NBC/CBS/PBS version of the news during that same given week during the Obama era.
The second, and most important distinction: Trump TV is paid for by the Trump reelection campaign. Obama's narcissistic hagiography detailed above was funded by you through the White House budget.
This is an opinion piece. The views expressed in this article are those of just the author.