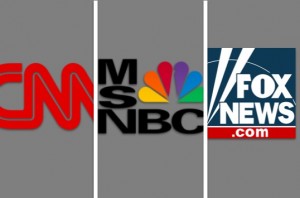 A notable trend has developed in the 2016 campaign cycle, one that has pinned two distinct groups against one another to heights not seen before: candidates running for President versus the media responsible for covering them. Sure, the media has served as a central villain for politicians since the founding of the republic but this is different with the media, in a voice spoken on behalf of the entities themselves fighting back. All three major cable news networks have now found themselves the subjects of headlines centered on public feuds with candidates, as well-known anchors and network personalities have become the targets of many shots from the stump.
The first major shot was launched in August, when the Donald Trump–Megyn Kelly feud spun out of a question the latter asked the real estate mogul at a Fox News debate. The latest chapter in that saga saw Trump refusing to attend the Kelly-moderated Iowa debate last month, a move that the frontrunner admits may have cost him the Iowa Caucus. Fox News, tired of Trump's insults, responded by providing Mediaite with a sarcastic reply. Cable news hosts creating battles with candidates is just good for ratings; Fox News mocking a Republican candidate for President is news.
MSNBC then found itself in the fold, when Joe Scarborough's ongoing criticism of Florida Senator Marco Rubio led to another battle royale. Just as the host hit Rick Santorum on Morning Joe for not being able to name Rubio's Senate accomplishments, outlets pointed to the gruff Scarborough-Rubio riff. The network then seems to have gotten involved; an email from an MSNBC producer revealed the source of the drama was that Rubio, "repeatedly appeared on rival cable news shows but kept rebuffing invitations to appear on his program," according to The New York Times. You have to wonder if that was intentionally leaked. But even more direct involvement from MSNBC came when Scarborough was accused of being too chummy with Donald Trump. Again it is striking to see the network PR machines getting directly involved in controversial battles.
And finally, CNN found itself on the receiving end of a Princeton debate bob-and-weave in the form of Iowa Caucus winner Ted Cruz. In a move that has been decried as generally dishonest (and one that eventually warranted an apology), the Cruz campaign asserted that it was CNN's fault that they thought challenger Ben Carson had dropped out. The Cruz campaign began hawking efforts to disseminate this information and encourage caucus goers to back the Texas Senator. In statement on behalf of the network, they responded in uncharacteristically tough and unambiguous fashion: "What Senator Cruz said tonight in the debate is categorically false," CNN said in its statement. "CNN never corrected its reporting because CNN never had anything to correct. The Cruz campaign's actions the night of the Iowa caucuses had nothing to do with CNN's reporting. The fact that Senator Cruz continues to knowingly mislead the voters about this is astonishing."
It begs the question: why are the networks getting into the mud rather than just allowing their rough-and-tumble hosts to do the dirty work? Why can't Megyn Kelly and Joe Scarborough for example, defend themselves as outspoken cable hosts so often have? Is this a new thin-skinnedness by personalities in political media demanding that their network do their dirty work? In all of these aforementioned feuds, the networks have offered responses in one form or another, often times as "protection" of sorts for their on-air talent getting besmirched on the campaign trail. But in the era where every media personality is essentially self-represented through a unique voice on television, social media, and elsewhere, why have the networks also all responded?
Or, is it that the acerbic attacks against the media have gotten so tough and personal that now the networks themselves have been forced to become characters in the play? Undoubtedly, Trump's rhetoric of bashing and threatening "the cameras" hasn't helped; distrust in the American media is at an all-time low (only 40% of Americans trust mass media according to September Gallup estimates).
In October, Ted Cruz (among others) bashed the CNBC Debate moderators, saying, "The questions asked in this debate illustrate why the American people don't trust the media." That sort of media-is-bogeyman rhetoric has always seemed to work for conservatives in particular.
Hell, Trump even said he could shoot a journo in the middle of Fifth Avenue and he wouldn't lose a single vote. Maybe the newly combative nature between candidates and the networks responsible for covering them stems from an increasingly perceived bias in all reporting and commentary.
The place it may have begun to escalate dates back to 2012, with then-candidate Newt Gingrich pummeling CNN's John King at a debate. King asked the former Speaker of the House to address allegations from his personal marriage, and Gingrich shot back with a fireball equal parts sass and incredulity:
I think the destructive vicious negative nature of much of the news media makes it harder to govern this country, harder to attract decent people to run for public office and I am appalled that you would begin a presidential debate on a topic like that.
Regardless, the cable news nets are now just as in the throws of the campaign as if they were on-stage themselves, bracing from flying elbows and heatedly-spewed stump speeches, corporate entities risking ad dollars and any remaining sense of objectivity in the name of defending their besmirched honor. But expect to see more of the media climbing into the wrestling ring through the ropes to challenge certain candidates as the spectacle continues.
And hey, from a Mediaite perspective, we say bring it on.
This is an opinion piece. The views expressed in this article are those of just the author.