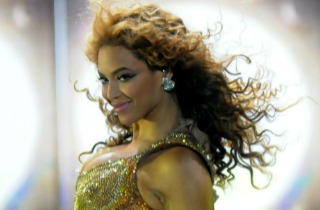 Mike Huckabee got some attention today for his criticisms of the Obamas because they dare to let their daughters enjoy Beyoncé, but he's not the first conservative to take issue with supposedly harmful messages in Beyonce's music.
Now, just for the sake of clarity, I'm not writing this as a hardcore Beyoncé fan or anything, I'm just fascinated by how worked up some people can get to decry the work of a singular artist as corrupting the youth of America.
(And in case you're wondering, I'm leaving the whole controversy about Jay Z and Beyoncé traveling to Cuba out of this because that's more political and different from freaking out about the content of someone's music.)
The sort-of genesis of Fox Newsers criticizing Beyoncé for questionable material was back in 2010, when Fox contributor Sandy Rios and Bill O'Reilly went after the music video for Lady Gaga's "Telephone," which featured Beyoncé. Rios had said to Megyn Kelly, "We've got Beyoncé and Gaga, gay and lesbian lovers. I mean, it's disgusting." She even used the word "poison" to describe the song, which is how Huckabee described Beyoncé's music in his book:
O'Reilly, meanwhile, was worried about THE KIDS being affected by this kind of horrible material (by the way, five years later, the world didn't explode because teenagers were exposed to this video), and Gretchen Carlson was absolutely up in arms about the "porn" and how Beyoncé would stoop to doing this kind of video:
Fast-forward a bit to 2013, when Rush Limbaugh was outraged by Beyoncé's tour for her song "Bow Down." Limbaugh was convinced that Beyoncé was talking about how the purpose of the song is telling women to bow down to their men, when it's actually telling women to bow down to her:
And now, get ready for a LOT more O'Reilly. You might recall that over the past year, O'Reilly developed some kind of obsession or fascination with how Beyoncé is harming the kids. First, in this segment from last February, he scolded Beyoncé, Jay Z and Kanye West for promoting "destructive behavior" like violence and drug use that ruins black families. In particular, O'Reilly objected to the sexual messages of "Partition":
The next month, O'Reilly was still so worked up about "Partition," he yelled at Russell Simmons about it. He argued that Beyoncé has a responsibility to children not to put out "exploitive garbage":
Later in March, David Letterman confronted O'Reilly for his "whining" about the subject. O'Reilly stuck to his guns and argued that "Partition" is especially bad when there are so many black babies born out of wedlock:
O'Reilly was back at it again in April, completely incensed by Beyoncé being included on the Time 100 cover because her music is "harming" America's children:
He clarified to ET days later that he believes Beyoncé is a "brilliant artist," but said she "empowers no one but herself" and should be more concerned with issues in the black community.
Now, this next one is a little more bizarre, and not necessarily a critique of Beyoncé herself, but still worth mentioning. O'Reilly Factor bro Jesse Watters took a swipe at "Beyoncé voters" (a phrase that was literally based on the fact that she has a song about single ladies) who depend too much on government because they don't have husbands to depend on:
But let's get back to O'Reilly. Yes, like I said, he's been on this for a while. In an August conversation with Dr. Ben Carson about Ferguson, he suspected the reason shit went down in the Missouri town was, in part, the growing influence of "gangster rappers" and Beyoncé in American culture:
And days later, O'Reilly wrote a column going after President Obama and Michelle Obama for palling around with Jay-Z and Beyoncé:
So the President and First Lady… regularly pal around with Beyoncé and Jay-Z. That's when Beyoncé isn't slithering salaciously and Jay-Z isn't talkin' 'bout some bitches. The First Family sets a stellar example for young blacks in many ways, but they seem to have a blind spot when it comes to popular culture.
And this next one is technically about Jay Z, but since most of this is about Fox News giving Beyoncé crap, and he's her husband, let's just call this one hatin' by associatin'. Fox Nation and Sean Hannity saw absolutely nothing wrong with referring to Jay Z as a "former crack dealer," because, you know, it's not like he worked his hardest to move past it, build a career, and become a responsible husband and father to show how far he's come.
But at last we come to Huckabee. Here are the two selections from his book that are getting people talking:
Beyonce is incredibly talented – gifted, in fact. She has an exceptional set of pipes and can actually sing. She is a terrific dancer – without the explicit moves best left for the privacy of her bedroom. Jay-Z is a very shrewd businessman, but I wonder: Does it occur to him that he is arguably crossing the line from husband to pimp by exploiting his wife as a sex object?
I don't understand how on one hand [the Obamas] can be such doting parents and so careful about the intake of everything -– how much broccoli they eat and where they go to school and making sure they're kind of sheltered and shielded from so many things -– and yet they don't see anything that might not be suitable for either a preteen or a teen in some of the lyrical content and choreography of Beyoncé, who has sort of a regular key to the door [of the White House].
Now, there is one thing to keep in mind amid all this: Beyoncé is Beyoncé, and I really doubt she cares about what Mike Huckabee thinks anyway.
[image via ANDRE DURAO/Shutterstock]
— —
Follow Josh Feldman on Twitter: @feldmaniac
This is an opinion piece. The views expressed in this article are those of just the author.
Josh Feldman - Senior Editor