As Republicans Approach The Ropes On Jobs Bill, Democrats Reach For The Towel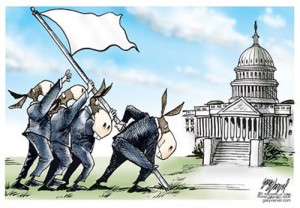 Since delivering his powerful speech unveiling the American Jobs Act, President Obama has kept up the pressure on Congressional Republicans, and it appears to be working. Immediately following the speech, House leaders showed faint signs of openness to the measure, and Speaker John Boehner even left a tiny bit of wiggle room on tax loopholes in his speech yesterday. Right on cue, the President's own party is riding in to rescue the GOP from the clever political trap he has laid for them.
As it stands, the GOP's choice is to "Pass this bill" in its entirety, which would give the President a legislative victory, but would also give him complete ownership of the consequences of those policies, or to pass only the parts they like, which would give the President the chance to say, "Look, I tried. If they'd have passed my plan, it would've worked," or to still claim credit if the half-measures succeed.
The President has kept the pressure on Congress in a series of speeches, and it appears to be working, at least a little bit. House Republicans like Boehner, Eric Cantor, and even Paul Ryan have sent signals that some kind of deal might be possible, a sign that, even if they're just stalling so they can regroup, the President's push has them back on their heels somewhat.
The President can always count on members of his own party to go all weak in the knees whenever there's a crucial fight, and this time is no different. Several Democrats are already signaling opposition to President Obama's plan, which completely undercuts the best leverage the President has.
West Virginia Democratic Sen. Joe Manchin (who campaigned using a bad promo for Top Shot) predictably led the white-flaggers, issuing a statement shortly after the speech saying he had "serious questions about the level of spending that President Obama proposed.
The New York Times has the rest of the lineup of Usual Suspects:
"I think the American people are very skeptical of big pieces of legislation," Senator Bob Casey, a Democrat from Pennsylvania, said in an interview Wednesday, joining a growing chorus of Democrats who prefer an à la carte version of the bill despite White House resistance to that approach. "For that reason alone I think we should break it up."

…"I have said for months that I am not supporting a repeal of tax cuts for the oil industry unless there are other industries that contribute," said Senator Mary L. Landrieu of Louisiana.

…Representative Heath Shuler, another North Carolina Democrat, said Congress should tame the deficit before approving new spending for job programs.  "The most important thing is to get our fiscal house in order," said Mr. Shuler, a leader of the fiscally conservative Blue Dog Coalition. "Then we can talk about other aspects of job creation."
The reason President Obama's push for this bill has been so effective is his framing of the measure as a choice between playing politics (aided by that "don't give him a win" quote) and helping the country. While Democrats who oppose the bill may think they're covering their own electoral asses, what they're really doing is giving Republicans cover to continue to do nothing to grow jobs.
Have a tip we should know? tips@mediaite.com