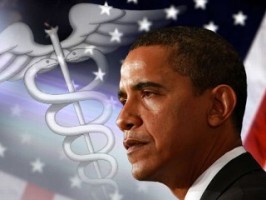 President Barack Obama has been no stranger to social media outlets: Facebook, LinkedIn and Twitter have all been a part of the White House communications strategy. Now, add one more: on Wednesday, August 17th, Obama will join a coalition of pro-reform faith groups for a podcast called 40 Minutes for Health Reform hosted by Blog Talk Radio.
CNN's Political Ticker reports:
Wednesday at 5 p.m. ET, 40 Minutes for Health Reform, hosted by a coalition of pro-reform faith groups which are multi-denominational, will premiere. For the first 30 minutes, faith-based leaders and a top ranking administration official (all to be officially announced tomorrow) will "share their stories about how our broken health care system has affected the lives of their loved ones and what is at stake in this debate," according to Faith in Public Life spokesperson Kristin Williams. Obama will then talk for the next 10 minutes.

Audience members will be encouraged to call in and listen to the show (but will not be able to speak on air) or can listen live on BlogTalkRadio.com. While the interview is occurring, "listeners will be tweeting it and putting it up on their Facebook pages," BlogTalkRadio Founder and CEO Alan Levy told CNN. "We are really one of the only platforms that can enable a live conversation to take place. A platform that enables Obama to reach large audiences through social tools."
This is a huge booking for BlogTalkRadio, and another example of the full frontal assault on health care reform by the Obama administration. Other political guests who have appeared on BlogTalkRadio include Michelle Obama, John McCain, Oliver Stone, and Yoko Ono. The Pentagon also has a Radio Network on the site.
Maybe President Obama will come on Mediaite's office hours next!
Have a tip we should know? tips@mediaite.com