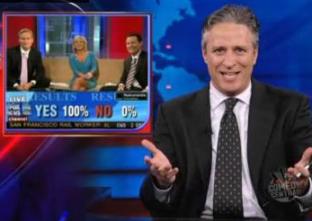 Isn't it strange how when you watch one of those text or online polls on a cable news show, the responses always seem to be in the 90% to 10% range?
No, of course not. Because whatever network you're watching, the responses generally agree with the position of the show. The Daily Show examined this trend last night, and joked about putting it to a poll. But they didn't follow through – so now you can vote here.
"If 98% of Lou Dobbs' audience agrees with him, that means 2% disagree with him, but watch his show anyway," said Stewart. "I assume those people are trapped under something heavy, not able to reach their remotes but still able to text."
Or how about a poll that showed 100% – yes, every single person – thought 'town halls are making a difference' during a Fox & Friends segment.
And somehow Ed Schultz' MSNBC audience and the F&F audience completely disagree on taxes! Stewart said viewers could vote on their poll at TheDailyShow.com, but it was just a joke. So we put it to a vote. Make your choice, and watch the segment below:
Have a tip we should know? tips@mediaite.com