Bloomberg, Brady Campaign Renew Calls To Get Politicians Working On Gun Control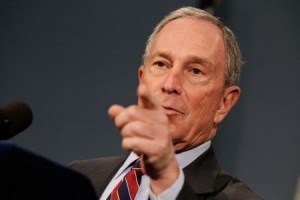 Less than a month after the shooting in Aurora, Colorado, today's shooting at a Sikh temple in Oak Creek, Wisconsin has driven gun control advocates to try once again to start a serious national conversation about gun control. The Brady Campaign To Prevent Gun Violence released another statement emphasizing the importance of addressing gun control, while New York mayor Michael Bloomberg repeated his call for the presidential candidates to talk about their positions on the issue.
RELATED: Bloomberg: If Giffords And Aurora Shootings Haven't Gotten Us To Reconsider Gun Control, What Will?
The Brady Campaign released a statement calling for politicians to revisit the debate they had previously called for following the events in Aurora.
This is yet another powerful reminder of the need for a real national conversation about what we can do to prevent gun violence tragedies, and for our elected officials and presidential candidates to participate in that conversation by offering real plans to do something about it.

There have now been 61 mass shootings since the tragedy last year in Tucson and 100 school shootings since the one at Columbine High School. Tomorrow, another 32 Americans will be murdered by guns.

The American people from across the political spectrum are calling for solutions. We know that we are better than this. It is time for our elected officials and presidential candidates to show us that they know it too.
Meanwhile, Bloomberg did not make any public statements today, but made his commitment to pursuing stricter gun laws known in two separate tweets today. In the first one, Bloomberg said that the survivors of the 2011 shooting in Tucson, Arizona have been waiting almost 600 days "for Washington to take action on #gun violence." He followed up by tweeting his sentiment that President Obama and Mitt Romney cannot keep ducking the issue.
The people who want to run this country need to tell us their plan to end #gun violence: bit.ly/PY0e2d

— Mike Bloomberg (@MikeBloomberg) August 5, 2012
An ad that aired on multiple networks this morning, from Bloomberg's group Mayors Against Illegal Guns, features three survivors of the Tucson shooting calling on the two presidential candidates to tell voters with their position is on gun control.
Have a tip we should know? tips@mediaite.com
Josh Feldman - Senior Editor