Buzzfeed Falsely Claims President Obama 'Tones Down Gun Plans' In Minneapolis Speech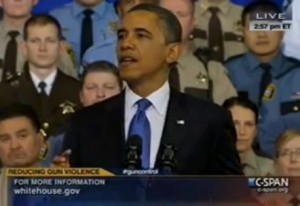 President Obama took his effort to enact sensible gun regulations on the road Monday, delivering a speech in Minneapolis that echoed much of what he said two weeks ago, when he first announced the proposals that came out of Vice President Joe Biden's task force. At least one mainstream media reporter, Buzzfeed's Zeke Miller, is advancing the narrative that the President has shifted gears, and is "lower(ing) expectations" for passage of an assault weapons ban. Maybe Zeke missed the President's earlier remarks, because his position on the assault weapons ban hasn't changed: Make them vote.
Over the past several weeks, very little has changed in the debate over sensible gun regulations like universal background checks, a ban on high-capacity magazines, and an assault weapons ban: the former two proposals have been pitched, by the media and politicians, as doable, while the latter has been cast as too radioactive to pass, despite overwhelming and unchanging public support.
President Obama hasn't changed, either, unless you're reading Buzzfeed:
President Barack Obama appeared to bow to broad opposition to instituting a new Assault Weapons Ban Monday in a speech on his gun control plans in Minneapolis.

Addressing a law-enforcement-heavy crowd, Obama expressed optimism that a compromise can be reached to mandate universal background checks for gun sales, but tempered expectations for a new ban assault weapons and high capacity magazines, saying he just wants to see them come up for a vote.

"We don't have to agree on everything to agree it's time to do something," Obama said less than a month after he and Vice President Joe Biden announced their plans to address gun violence in the wake of the Newtown school shooting.

"We are starting to see a consensus emerge about the action Congress needs to take," Obama said. "The vast majority of Americans — including a majority of gun owners — support requiring criminal background checks for anyone trying to buy a gun…There is no reason we can't get that done."

But for the assault weapons ban, public opinion is much more divided.

"We shouldn't stop there," Obama said, far less hopefully. "We should restore the ban on military-style assault weapons and a 10-round limit for magazines — and that deserves a vote in Congress because weapons of war have no place on our streets or in our schools or threatening our law enforcement officers."
In his speech on January 17, however, the President delivered the identical message, that passing these measures would be difficult, and would require public pressure, but that they at least deserve a vote. "In the letter that Julia wrote me, she said, 'I know that laws have to be passed by Congress, but I beg you to try very hard,'" the President said, referring to the 11 year-old girl who shared the stage with him. "Julia, I will try very hard. But she's right. The most important changes we can make depend on congressional action. They need to bring these proposals up for a vote, and the American people need to make sure that they do."
"Get them on record," he continued. "Ask your member of Congress if they support universal background checks to keep guns out of the wrong hands. Ask them if they support renewing a ban on military-style assault weapons and high-capacity magazines. And if they say no, ask them why not. Ask them what's more important — doing whatever it takes to get a A grade from the gun lobby that funds their campaigns, or giving parents some peace of mind when they drop their child off for first grade?"
Zeke Miller will not be alone in continuing the political media's drumbeat that an assault weapons ban is unlikely to pass, so if you hear anyone say the President is backing off of the assault weapons ban, don't believe it. The President has been consistent. Congress doesn't want to vote on this, because then, they must decide if they want to defend that vote after the next massacre. The President and I are betting they won't want to do that. Congress is betting that the mainstream media gives them cover to say that "opposition" to the bill kept them from ever bringing it up for a vote.
Here's the portion of the speech that Miller refers to, from C-Span:
Follow Tommy Christopher (@TommyXtopher) on Twitter.
Have a tip we should know? [email protected]