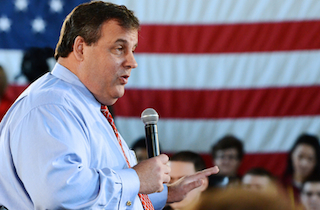 At a New Hampshire town hall Wednesday, New Jersey Governor and potential 2016 candidate Chris Christie made a slight change to his previous statement about vaccines: He no longer believes they should be voluntary.
You may recall all the way back to two months ago, when Christie fielded a question about vaccines during a measles outbreak and said that while he was largely for vaccinations, he believed parents "needed to have some measure of choice."
The comments caused a maelstrom of criticism and induced a week's worth of scrutiny on GOP candidates, many of whom fumbled over their position.
No longer. Per NJ.com:
The governor, speaking to New Hampshire residents during a town hall meeting here, declared he would not support a "voluntary vaccination" policy.

"Yeah, no," Christie said promptly when 57-year-old Laura Condon asked for his thoughts on allowing parents to opt out of vaccinating their children. "You can't count on me for that," Christie said.

…The governor said "vaccines have done an enormous good in this country to eradicate" serious illnesses and that the "public health has to be paramount."
Vaccine rates have dipped in recent years as discredited fears have led them to be linked to autism and other disorders, leading to a spike in diseases like measles and whooping cough thought to be long since eradicated.
YMMV as to how much Christie actually endorsed voluntary vaccinations in his original comments; some saw it as a purely semantic issue. However Christie's position became particularly pointed given his previous willingness to quarantine health care workers returning from ebola-stricken west African nations, leading to charges of hypocrisy.
[h/t The Journal]
[Image via L.E.MORMILE / Shutterstock.com]
——
>> Follow Evan McMurry (@evanmcmurry) on Twitter
Have a tip we should know? tips@mediaite.com