Chris Christie: Nation Becoming 'People Sitting On A Couch Waiting For Their Next Government Check'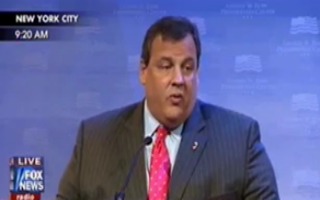 Appearing at the New York Historical Society just after former President George W. Bush finished speaking in defense of lower taxes on the nation's highest income earners, New Jersey's Republican Gov. Chris Christie said that the government is fostering a "paternalistic entitlement society" and he feared that the country was becoming a nation of "people sitting on a couch waiting for their next government check."
RELATED: George W. Bush Takes Swipe At Obama: Don't 'Raise Taxes On The So-Called Rich'
"Government's telling them stop dreaming, stop striving, we'll take care of you," said Christie.
"We're turning into a paternalistic entitlement society. That will not just bankrupt us financially, it will bankrupt us morally," the governor continued. "We'll have a bunch of people sitting on a couch waiting for their next government check."
Christie, a former federal prosecutor, also praised his former boss, President Bush. "I was a proud member of the Bush administration for seven years," said Christie.
The governor went on to stress that the successes he has had as New Jersey's governor has been possibly only due to his ability to reach across the aisle and the opposition party's willingness to work with him despite their strong majorities in both chambers of the Garden State's legislature.
"We developed relationships with the other side of the aisle that allowed them to trust us. And that doesn't happen overnight," Christie said. "Day after day after day you have to sit with our colleagues and convince them of the goodness of your spirit and of the understanding that compromise is not a dirty word."
"If you can do this in New Jersey, you can do it anywhere," Christie continued. "Most importantly you can do it in Washington D.C. What we need again is some leadership that is not going to take no for an answer."
h/t NJ.com
Have a tip we should know? tips@mediaite.com